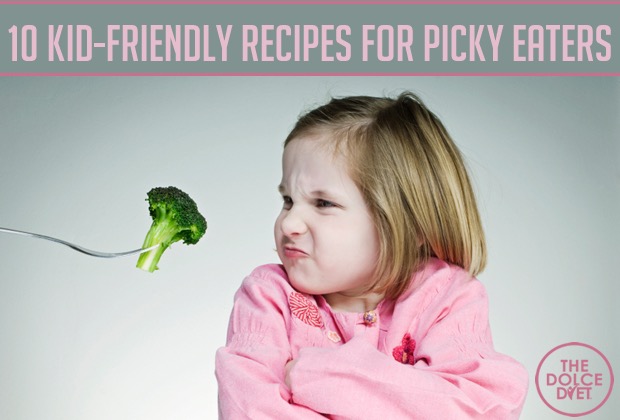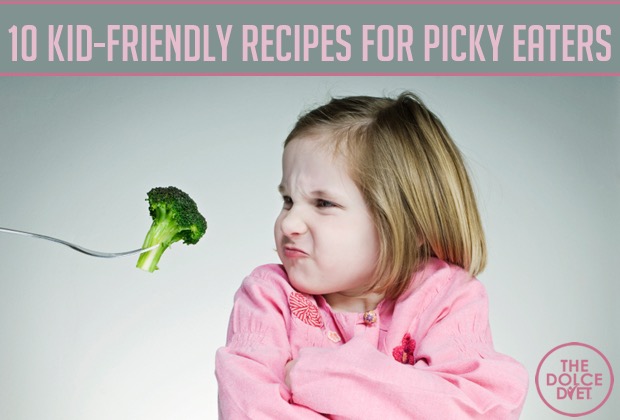 DOLCE LIFESTYLE:
10 Kid-Friendly Recipes For Picky Eaters

We all have that one child in the family who is a super finicky eater! Here are 10 recipes that are sure to please even the pickiest of palates.

Polenta Fries
Makes about 60 fries

Ingredients
• Nonstick cooking spray
• 2 qt. water (for boiling)
• 2 ¼ c. instant polenta
• 1 c. whole milk
• ½ c. grated Parmesan cheese
• 3 tbsp. unsalted, grass-fed butter, at room temperature
• Kosher salt and freshly ground pepper
• Ketchup, your favorite organic version for dipping

Directions
1. Spray a large rimmed baking sheet with cooking spray and line the pan with parchment paper.
2. Bring water to a boil over high heat. Reduce to a simmer and slowly add the polenta while whisking constantly.
3. Cook, continuing to whisk, until the polenta has thickened, about 3 minutes.
4. Remove from the heat. Add the milk, Parmesan, butter, 1 tbsp. salt and ½ tsp. pepper and stir with a wooden spoon until thoroughly mixed and the polenta is smooth.
5. Pour the polenta into the center of the prepared baking sheet. Using a rubber spatula, spread it toward one end of the pan, pushing it into the corners and then to the edges, covering about 2/3 of the pan in an even layer. Spray a second piece of parchment with cooking spray and gently press the coated side onto the polenta to level and smooth the surface. Let cool at room temperature until set, about 1 hour.
6. Preheat the oven to 400°F. Remove the top sheet of parchment and cut the polenta into strips. Using a spatula, transfer the strips to a clean rimmed baking sheet, spacing them about ½ inch apart. Spray the fries lightly with organic cooking spray and sprinkle with salt.
7. Bake until the fries have developed a crust and the edges are golden-brown, about 30 minutes. Let cool slightly, then serve with the ketchup.

---

Candied Baby Carrots
(As featured in The Dolce Diet: Living Lean Cookbook Vol. 2)
Serves 4–6

Ingredients
• 1 lb. baby carrots
• 1 tbsp. grapeseed oil
• 1 tbsp. honey
• ½ tsp. salt

Directions
1. Peel carrots and trim, leaving them whole.
2. Heat the oil over medium heat. Add the carrots and cook, until they begin to soften, about 5 minutes.
3. Drizzle the honey over the carrots, continue to cook until just tender, 2–3 minutes longer.
4. Season with the salt and serve.

---

Spinach Squares
Serves 6-8

Ingredients
• 2 tbsp. unsalted, grass-fed butter, melted
• 3 large eggs
• 1 c. whole milk
• 1 c. whole wheat flour
• 1 tsp. baking powder
• 1 tsp. kosher salt
• 1 lb. cheddar cheese, shredded
• 1 lb. chopped frozen spinach, thawed and drained
• ¼ c. grated Parmesan cheese

Directions
1. Preheat oven to 375°F. Line a 9-by-13-inch rimmed baking sheet or baking dish with parchment paper. Pour the melted butter into the prepared pan and spread to coat evenly.
2. In a large bowl, beat the eggs until well blended. Whisk in the milk, flour, baking powder and salt. Add the cheddar and spinach and stir until combined. Pour the spinach mixture into the prepared pan and spread in an even layer. Sprinkle the Parmesan evenly over the top.
3. Bake until the top is lightly browned and the juices are bubbling, 30–40 minutes. Transfer to a wire rack and let cool until just warm to the touch. Cut into 2-inch (5-cm) squares and serve.

---
Chicken and Guacamole Wraps
Ingredients
2 tbsp. fresh lime juice
¼ tsp. salt
1 ripe peeled avocado (excellent source of healthy fats for brain development in the growing years!)
½ c. chopped seeded plum tomato
4 green leaf lettuce leaves
4 (8-inch) whole-grain tortillas
2 c. shredded skinless, boneless grilled chicken (about 8 oz.)
Directions
1. Place first lime juice, salt and avocado in a medium bowl and mash with a fork until smooth. Stir in tomato.
2. Place 1 lettuce leaf on each tortilla.
3. Spread about ¼ c. avocado mixture on each lettuce leaf.
4. Top each serving with ½ c. chicken. Roll up and serve, or wrap and chill.

---

Fruit & Veggie Muffins
Makes 36 mini muffins or 24 regular muffins

Ingredients
• 1 c. flour, whole wheat
• 1 c. flour, all-purpose
• 3/4 tsp. baking soda
• 1/2 tsp. salt
• 1/4 tsp. nutmeg
• 1/4 tsp. cinnamon
• 3/4 c. sugar
• 4 tbsp. grass-fed butter, unsalted
• 2 large eggs
• 1 tsp. vanilla extract
• 1/8 c. organic apple juice
• 1/4 c. applesauce, unsweetened
• 1 medium carrot
• 2 1/2 c. fruit and veggie puree (combine ½ c. steamed broccoli, 1 medium zucchini, 1 ½ carrots, ¾ apple, 1 medium banana and applesauce, small amount of apple juice – will look like pesto when blended)
• 1/4 c. Greek yogurt, plain

Directions
1. Preheat oven to 375 degrees F.
2. Mix together dry ingredients in a bowl and set aside.
3. Mix the sugar, butter, eggs and vanilla in a mixer.
4. Combine produce, apple juice, and apple sauce in a food processor and pulse until thoroughly mixed.
5. Combine the puree, carrots, and yogurt, into the butter mixture and beat until mixed.
6. Finally, add the dry ingredients and mix just until combined and wet.
7. Scoop the mixture into a prepared muffin pan.
8. Bake on 375 for about 20 minutes for regular size muffins, and 350 for 20 minutes for mini-muffins. Bake until the tops are slightly brown and a toothpick comes out clean.
May freeze for up to 3 months.

---
Mac & Cheese Soup with Hidden Veggies
Ingredients
• 1 c. elbow noodles
• 1/2 c. chopped onion
• 2 carrots
• 2 celery
• 1/4 c. flour, whole wheat
• 3 c. chicken broth, low-sodium
• 1 c. water
• 1 c. milk
• 1 1/2 c. shredded cheddar cheese
Directions
1. Place onion, carrots and celery in a food processor. Pulse until chopped very fine.
2. In a large saucepan, add a small amount of grapeseed oil.
3. Add the vegetables and cook over medium-high heat until softened, 4 to 5 minutes.
4. Add the flour and cook for another 2 minutes, stirring the whole time.
5. Gradually stir in the broth and water and bring to a boil. Continue to cook, stirring, until thickened, about 5-6 minutes. Remove from the heat.
6. While the vegetable broth mixture is cooking, boil your pasta according to package directions.
7. Add the milk, cheese and cooked noodles and stir until the cheeses melt. Ladle into bowls and serve warm.

---
Gluten-Free, Dairy-Free, Nut-Free Animal Cookies
Ingredients
• 1 c. shelled sunflower seeds
• ¼ c. flax meal
• ¼ c. shredded coconut
• 1 tbsp. honey
• Dash of sea salt
• ¼ c. cold water
Directions
1. Place shelled sunflower seeds in a food processor or blender. Grind until it's the texture of coarse meal.
2. Place seed meal into a bowl and add remaining ingredients and stir with a spoon.
3. Chill in the fridge for 30 minutes.
4. Spoon batter onto wax paper. Cover with wax paper and roll out with rolling pin until 1/4-1/8th inch thick. Cut out shapes.
5. Place shapes on greased cookie sheet. Bake in 300°F oven for 15 minutes. Remove from oven and cool on wire rack. Serve with Greek yogurt for dipping.

---
Chocolate-Covered Quinoa Bites
Ingredients
• 1 c. cooked quinoa
• 1 c. oats, uncooked
• ½ tsp. cinnamon
• ¼ tsp. salt
• 2 tbsp. brown sugar
• 1 c. chopped fruit of choice
• 2 eggs, lightly beaten
• ½ c. chocolate pieces, melted
Directions
1. Preheat oven to 350 degrees.
2. In a large mixing bowl, add your cooked quinoa, oats, and chopped fruit. In a separate bowl, combine your cinnamon, sugar and salt. Add the spice mixture to the quinoa and oats. Stir in chopped fruit. Once combined, add the eggs, and mix just until combined.
3. Scoop into a sprayed mini muffin tin, making sure the pan is thoroughly sprayed.
4. Bake for 15-20 minutes.
5. Let cool, and dip in chocolate

---
Veggie Pizza Rolls
Sauce:
• 1 jar of organic marinara sauce
• 2 c. of chopped veggies (spinach, bell peppers, mushrooms, onion, tomatoes, carrots, zucchini)
Chop veggies and sauté for 3-4 minutes or until slightly tender. Blend in a high powered blender with marinara sauce.
• 1 ½ c. mozzarella cheese (can use more if you like it cheesy)
Crust:
• 2 c. whole wheat flour
• 2 ¼ tsp. rapid rise yeast
• 1 ½ tsp. sugar
• ¾ tsp. salt
• 2/3 c. very warm water
• 3 tbsp. olive oil
Directions
1. Combine 1 cup flour, undissolved yeast, sugar and salt in a large bowl. Whisk together the warm water and the oil and add to the dry ingredients. Mix until well blended, about 1 minute. Gradually add enough remaining flour to make a soft dough. Dough should form a ball and will be slightly sticky. Knead on a floured surface, adding additional flour if necessary, until smooth and elastic, about 4 minutes.
2. Place dough in a large, lightly greased bowl, and cover with plastic wrap. Allow to rest for 30 minutes in a warm, draft-free place. Dough should almost double in size.
3. Preheat oven to 400 degrees F.
4. Remove the dough from the bowl and place on a lightly floured work surface. Use a rolling pin to roll the dough into a ½-inch thick rectangle, about 12 by 10 inches.
5. Begin by spreading about 1 cup of sauce over the dough, leaving a ½-inch boarder around the edges. If it seems like it needs more, then add 1 or 2 tbsp. at a time. Sprinkle with mozzarella cheese.
6. Begin rolling the dough until you have one large roll. Slice into 8-12 slices and place in a greased muffin tin.
7. Bake for 15-20 minutes or until rolls are golden brown and cooked through the middle.

---
Sandwich-Style Bean & Cheese Burrito
Ingredients
• 2 c. cooked black or pinto beans
• ½ c. organic barbecue sauce
• ½ c. grated parmesan cheese
• 1 bunch green onions
• 3 plum tomatoes, sliced
• Whole grain bread, sliced
• Salt and pepper, to taste
Directions
1. Slice tomatoes ½ inch thick.
2. Arrange on a parchment lined sheet pan and sprinkle with salt and pepper and broil for 5 minutes, or until tomatoes start to wilt or brown.
3. While tomatoes are broiling, mix beans, barbecue sauce together in a bowl.
4. Remove tomatoes from pan and set aside. Arrange slices of bread on pan, then top with beans. 5. Add tomato slices, green onions, and Parmesan.
6. Broil on high for 3 minutes, or until cheese starts to bubble.
Additional sources:
SuperHealthyKids.com
The Supper Club by Susie Cover, Weldon Owen, 2011.
---