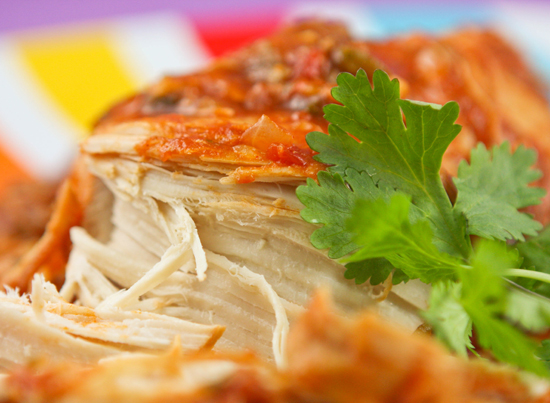 3 Easy Weight Loss Recipes
When it comes to weight loss, it's best to make life as easy on yourself as possible. No need to stress, which only inhibits your weight loss progress. So, we've come up with some easy, delicious recipes that won't even make you think you're trying to lose weight!


Cilantro Lime Slow Cooker Chicken
pictured above
Serves 4-6
Ingredients
• 1 24 oz. jar of organic salsa of choice
• 1/2 cup freshly chopped cilantro
• 1 package of low-sodium taco seasoning
• 1 lime, juiced
• 4-6 boneless, skinless chicken breasts
• 2 jalapenos, chopped (optional)
• Gluten-free tortillas (for serving)
Directions
1. Add the salsa, cilantro, taco seasoning and freshly squeezed lime juice to your slow cooker. Mix them together.
2. After mixing them, add the chicken breasts.
3. Cover the slow cooker and cook on low for 6 hours. Shred with fork before serving.



Slow Cooker Beef Stew
Serves 6
Ingredients
• 1 lb. lean beef stew meat, cubed in about 1-inch pieces
• 2 tbsp. whole wheat flour for coating the beef
• 3 c. vegetable broth
• 1 tsp. salt, divided
• ½ tsp. black pepper, divided
• 2 tbsp. grapeseed oil
• 1 medium onion, coarsely chopped
• 1 clove garlic, minced
• 2 medium potatoes, peeled and cubed
• 2 medium carrots, peeled and sliced
• 2 celery stalks, coarsely chopped
• ½ c. diced red peppers
• 2 bay leaves
• 1 (14-ounce) can fire-roasted diced tomatoes
Directions
1. Coat beef with flour then shake off the excess then sprinkle ½ teaspoon salt and ¼ teaspoon black pepper.
2. Over medium heat, in a saucepan with grapeseed oil, brown the floured beef then pour in 1 cup broth.
3. Cook until sauce is slightly thickened, about 5 minutes. Transfer the beef and its sauce to the crock pot.
4. In the crockpot, add onion, garlic, potatoes, carrots, celery, red peppers, bay leaves, 2 cups broth, tomatoes, and the remaining ½ teaspoon salt and pepper. Cover and cook on low for 8 hours or high 4 – 6 hours.



Chicken Teriyaki Salad
Serves 2
Teriyaki Sauce:
• ½ c. low sodium soy sauce
• 2 tbsp. rice wine vinegar
• 1 tsp. honey
• 1 clove garlic, minced
• 1 tsp. grated fresh ginger
• ½ tbsp. arrowroot starch
• 1 tbsp. water
Salad:
• 1 tbsp. sesame oil
• 2 boneless skinless chicken breasts, sliced
• 1 red bell pepper, diced
• 1 c. cubed pineapple
• 2 heads Romaine lettuce, chopped into bite sized pieces
Directions
1. Whisk soy sauce, vinegar, honey, garlic, and ginger in a small saucepan and bring to a boil. 2. Combine arrowroot starch and the water in a small bowl until arrowroot starch is dissolved and add to the pot. Boil for about 30 seconds and turn off the heat.
3. Make the sauce by combining the soy sauce, vinegar, sugar, garlic, and ginger in a small saucepan with ¼ cup water. Bring to a boil. Mix the cornstarch with the water and add it to the pot. Boil for 1 minute and turn off the heat.
4. Heat the sesame oil in a skillet over medium high heat. Add chicken and cook until browned. Add bell peppers and pineapple and cook until warm and slightly softened. Pour the sauce over the chicken and stir until heated through.
5. Serve over Romaine lettuce.
by Samantha Coogan, MS, RDN, LD

Join our online training program today!
Guaranteed results or your money back!
Lose up to 21 pounds in 21 days!