3 Hearty Casserole Dishes To Make Tonight
Casserole dishes are great to bring to gatherings, or throw together for the family in a pinch. Check out these hearty Dolce-Approved recipes!

Broccoli & Cheesy Quinoa Casserole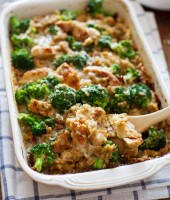 Ingredients
• 1 ½ cups quinoa, uncooked
• 2 crowns of broccoli, cut into small florets
• 3 tbsp. grass-fed butter
• 3 tbsp. whole wheat flour
• 1 small yellow onion, diced
• 2 cups almond milk
• 1 clove garlic, minced
• 1 tbsp. spicy brown mustard
• ¼ tsp cayenne pepper
• Salt and pepper, to taste
• 8 oz. sharp cheddar cheese, shredded
• 1 ½ cup shredded chicken
Directions
1. Preheat oven to 400 degrees F.
2. In a medium sauce pan, cook the quinoa according to package directions and set aside.
3. In a large pot, add broccoli and a couple of inches of water.
4. Cover the pot, bring to a boil for 1-2 minutes, and then drain and rinse with cold water.
5. Return drained broccoli to the large pot and add quinoa.
6. In a sauté pan over medium heat, melt butter.
7. Whisk in the flour, onion, garlic, mustard, cayenne, and a generous pinch of salt and black pepper.
8. Let cook 1-2 minutes and then slowly add the milk, whisking until the sauce is smooth.
9. Let the sauce simmer, reducing the heat if necessary, about 5 minutes until thickened.
10. Remove from heat, whisk in the cheddar a handful at a time until completely melted.
11. Salt and pepper to taste.
12. Pour sauce over broccoli-quinoa mixture and toss to coat, mixing well.
13. Transfer mixture to a casserole dish and bake 35-30 minutes, until the top is nicely browned.
14. Serve warm.


Butternut Squash & New Potato Casserole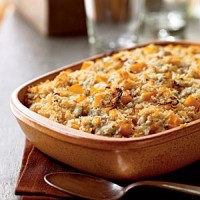 Ingredients
• 2 cups cubed butternut squash
• 2 cups small-diced new potatoes
• 2 cups green beans, cut into 1-inch pieces
• 2 tablespoons grapeseed oil, divided
• 2 teaspoons salt
• 1 teaspoon black pepper
• 2 tablespoons chopped parsley
• 1 tablespoon chopped basil
• 2 teaspoons chopped rosemary
Directions
1. Preheat oven to 400 degrees F.
2. Wipe a little grapeseed oil on a large baking sheet and set aside.
3. Toss the vegetables with 1 tablespoon grapeseed oil, salt and pepper.
4. Spread into an even layer on the prepared baking sheet.
5. Roast at 400 degrees F for 25 to 30 minutes. (Stir the veggies 2 to 3 times during the roasting process). Cook until the vegetables are caramelized and tender.
6. While the vegetables are roasting, stir together the herbs, and remaining tablespoon of grapeseed oil.
7. When the vegetables are done toss them with the herb mixture and serve immediately.

Lentil Casserole with Bell Peppers and Feta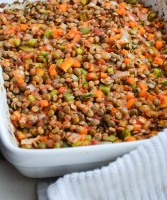 Ingredients
• 1 cup brown lentils
• 1 large onion, chopped small
• 2 tsp. minced garlic
• 1 cup + 2 tbsp. vegetable broth
• 1 bay leaf
• ½ tsp. fresh ground black pepper
• ½ tsp. oregano
• ½ tsp. thyme
• ½ tsp. rosemary
• 1 can (14.5 oz.) crushed tomatoes
• 1 green bell pepper, finely chopped
• 1 red bell pepper, finely chopped
• 3/4 cup Feta cheese, crumbled
Directions
1. Preheat oven to 375 degrees F.
2. Use a 3 quart casserole dish and combine lentils, chopped onion, minced garlic, vegetable broth, bay leaf, black pepper, oregano, rosemary and thyme in the casserole dish and bake covered for 45 minutes.
3. While lentils bake, drain the tomatoes and mash gently inside the can with a fork.
4. Cut seeds out of the bell peppers and finely chop, and crumble enough Feta to make 3/4 cup.
5. After 45 minutes, take lentils out of the oven, stir in the crushed tomatoes, put the lid back on and bake for 15 minutes more.
6. Then take out again, gently mix in the finely chopped bell pepper and 2/3 of the Feta.
7. Crumble the rest of the Feta over the top and bake 15-20 minutes more, or until the Feta is starting to melt and get lightly browned. Serve hot.