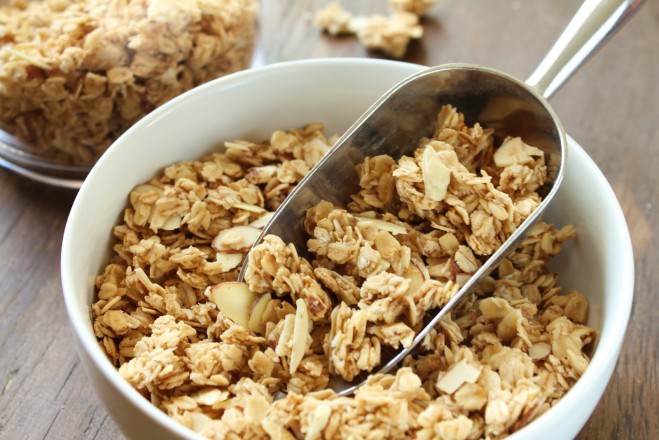 3 Yummy Homemade Granola Bar Recipes
Classic Apple Cinnamon
Makes 12 bars
The Goods:
2 cups pecans
2 cups rolled oats
1 ½ cups pitted and halved dates
2 tsp. cinnamon
2 granny smith apples, chopped
Instructions:
• Preheat oven to 350 degrees F. Line a baking sheet with parchment paper and spread pecans and oats out as a single layer. Bake for 10 t0 15 minutes or until toasted and fragrant. Remove from oven, but keep the oven on.
• Line an 8"X 8" (or close to) pan with parchment paper. Leave enough paper on sides to be able to pull from later (to remove bar from pan).
• Place toasted nuts, oats, dates, cinnamon and salt in food processor. Process until mixture is coarse and crumbly, with no large pieces remaining. Add chopped apple and pulse until there are no large chunks left. Continue pulsing until mixture is clumped together (you may have to use spatula between pulses to move things around).
• Transfer mixture to pan. Using a greased spatula (with coconut oil or grass-fed butter), press down on mixture to flatten. Compress as much as possible.
• Bake in oven for 20 minutes, let cool for 15 minutes and slice into bars using large knife. Once completely cool, lift out of the pan and store in a sealed container in the fridge. Yum!

Crunchy Coconut Almond
Makes 14 bars
The Goods:
1 cup raw almonds, lightly toasted
1 cup raw cashews, lightly toasted
1 ¾ cup unsweetened coconut flakes, lightly toasted
¾ cup raw honey
¼ cup water
Pinch sea salt
1 tsp. vanilla extract
¼ cup dried cranberries (optional)
Instructions:
• Preheat oven to 325 degrees F. Heat honey, water and vanilla in small pot on high until bubbling (stirring periodically). Lower heat and continue simmering uncovered for roughly 25 minutes.
• While the honey mixture is heating, lightly toast nuts and coconut in the oven for 8 to 10 minutes. The coconut flakes should be turn a light golden brown. When mixture done heating, turn of and add toasted nuts and coconut. Stir well until evenly coated.
• Spread in an 8X8 pan lined with parchment paper.
• Use a greased (with coconut oil or grass-fed butter) spatula to spread the mix out evenly. Press down firmly on mixture, compacting as much as possible.
• Let mixture cool uncovered for 45 minutes to 1 hour. Once cooled, flip onto a cutting board (mixture still in one piece) and cut into sections with large knife. Let cut bars cool on parchment paper for 2 hours before storing. Enjoy!

No-Bake Blueberry Breakfast Bars
Makes 12 bars
The Goods:
1 cup + 2 Tbsp. rolled oats
½ cup whole almonds
¼ cup dried blueberries
¼ cup pistachios
¼ cup ground flaxseed
¼ cup walnuts
¼ cup pumpkin seeds
3 Tbsp. sunflower seeds
¼ cup raw honey or organic maple syrup
3 Tbsp. unsweetened applesauce
¾ cup almond butter
Instructions:
• Combine the oats, almonds, blueberries, pistachios, flaxseed, walnuts, pumpkin seeds and sunflower seeds in a large bowl and mix.
• Add honey or maple syrup and apple sauce to combine. Then mix in almond butter.
• Line an 8"X 8" (or close to) baking pan with parchment or wax paper.
• Transfer mix to pan and compress with hands. Place plan in freezer for 1 hour.
• Remove from freezer and remove batter from pan (flip or pull on wax paper to lift).
• Cut mix into bars using large knife. Store in sealed container. Enjoy!