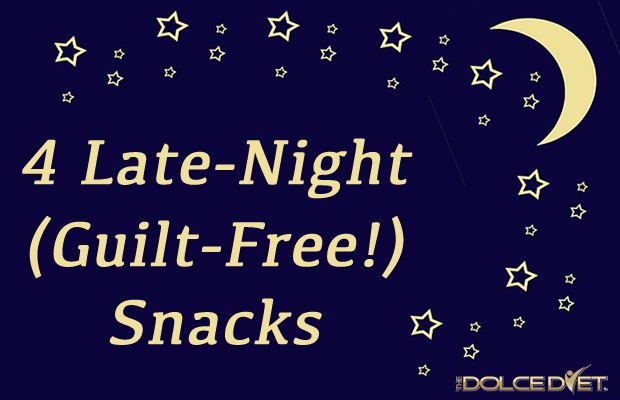 4 Healthy & Guilt-Free Late-Night Snacks
by Samantha Wilkinson, MS, RDN, LD
Late-night snacks don't have to be synonymous with guilt! Try out these delicious treats when you get those evening cravings!
Apple Slices with Almond Butter & Raisins
Put a little spin on this classical snack by slicing the apples across like little doughnuts instead of traditional slices. Spread a small dollop of almond butter (just enough to cover the top of the slice, and sprinkle with a few raisins. It's like a healthy cookie with the same crunch and sweetness!!
Frozen Fruit
Freeze your favorite fruits, such as, raspberries, sliced strawberries, cherries, grapes, banana slices or blueberries, for a quick, cool treat. Easy to make, easy to eat and less mess than ice cream or a popsicle.
Greek Yogurt-Filled Strawberries with Honey Drizzle
Take a whole strawberry and cut the stem off. Now core out the center of the strawberry. You can achieve this with a paring knife or a melonballer if you have one. Now fill the hole with some plain, non-fat Greek yogurt. Lightly drizzle with honey or agave syrup and enjoy!
Cookie Dough Greek Yogurt
I've saved the best for last! Who doesn't love eating raw cookie dough? Since we were kids we've loved to go against Mom's rule and dig our finger, or spoon, into the uncooked madness. However, here is a much healthier spin on our favorite guilty pleasure.
What You'll Need:
•1 small container (6 oz, or 170g) of plain Greek yogurt
•1 tablespoon almond butter
•1 tablespoon honey or agave syrup
•¼ teaspoon pure vanilla extract
•pinch of sea salt (optional)
•1 tablespoon mini chocolate nibs
Simply combine all ingredients until smooth and indulge! The thickness of the honey combined with the thicker texture of the Greek yogurt will blend to make a more solid texture, closer to traditional cookie dough consistency.
---