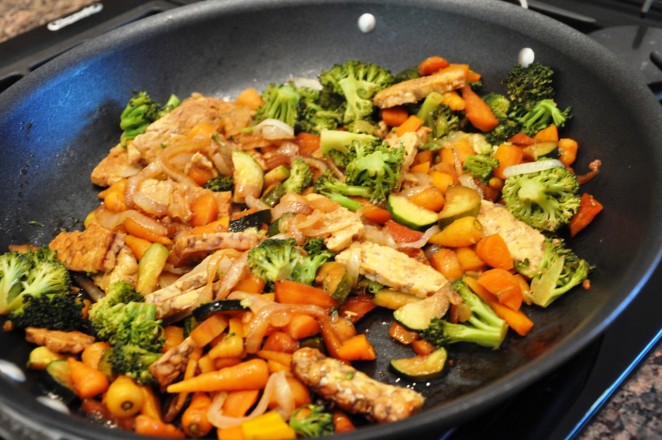 4 Stir-Fry Recipes We Love
Paprika Chicken, Asparagus, and Sun-Dried Tomato Stir-Fry
Serves 4
Ingredients
1/3 cups sun-dried tomatoes
2 Tbsp. avocado oil
1 lb. chicken thighs (boneless, skinless, sliced into thinner strips)
¼ tsp. sea salt
½ tsp. paprika
1 lb. asparagus (ends tripped, cut in half)
Instructions
1. Chop sun-dried tomatoes (drained of most oil) into smaller bites.
2. Heat half the amount of chopped sun-dried tomatoes and oil in a large skillet on medium heat. Add boneless, skinless chicken thighs, sliced into thinner strips. Cook oil and sun-dried tomatoes. While cooking, season thighs generously with salt (~1/4 tsp.), and sprinkle with paprika from all sides (~1/4 to ½ tsp. to taste). Chicken should be nicely colored but not too red. Cook chicken until completely cooked through. Remove chicken from the skillet, leaving the oil in the skillet.
3. Add asparagus to skillet with the remaining half of sun-dried tomatoes. If there is not enough oil in the skillet from the chicken, add 1 Tbsp. more of oil. Season asparagus generously with salt, and cook asparagus with sun-dried tomatoes in oil on medium heat for roughly 5 minutes. Remove from heat, cover the skillet with the lid, and let the asparagus continue cooking, off heat, until crispy.
4. Add chicken back to the skillet, reheat, and serve.

Chicken & Vegetable Medley
Serves 4
Ingredients
2 medium chicken breasts, cubed
1 red bell pepper, chopped
1 yellow bell pepper, chopped
½ sweet onion, chopped
1 zucchini, chopped
1 cup broccoli florets
1 plum tomato, chopped
2 Tbsp. avocado oil
½ tsp. sea salt
½ tsp. black pepper
1 tsp. Italian seasoning
¼ tsp. paprika
1 Tbsp. avocado oil
Instructions
1. In a large skillet, heat 1 Tbsp. avocado oil on medium heat. Add half sea salt, pepper, Italian seasoning and paprika and cook until chicken fully cooked through. Set chicken aside.
2. Add veggies to skillet as well as second half of seasonings and spices. Once tender, add chicken back to skillet, reheat and serve hot!

Shrimp Vegetable Stir-Fry
Serves 6
Ingredients
1 cup rice, dry
6 Tbsp. low-sodium soy sauce
6 Tbsp. water
¼ cup raw honey
2 Tbsp. cider vinegar
2 Tbsp. cornstarch
2 Tbsp. avocado oil
2 garlic cloves
2 cups broccoli florets
1 cup baby carrots
1 white onion, chopped
½ tsp. black pepper
1 cup sliced mushrooms
1 ½ lb. uncooked wild-caught shrimp, peeled & deveined
Instructions
1. Cook rice according to package directions and set aside.
2. In a small bowl, whisk the soy sauce, water, honey, cider vinegar, and cornstarch. Set sauce aside.
3. Add avocado oil to pan and heat on medium. Stir in garlic and cook for 10 seconds. Add the broccoli, carrots, onion, and black pepper; cook and stir until broccoli and carrots are tender, roughly 5 minutes. Stir in the mushrooms and cook for 2 minutes. Remove the vegetables from the skillet and set aside.
4. Pour sauce in heated pan and cook for 1 minute. Add the shrimp to the sauce and stir until the shrimp are bright pink on the outside and the meat is no longer transparent in the center. The sauce will also thicken; takes roughly 3 minutes. Stir the vegetables back into the pan and serve over cooked rice. Enjoy!

Orange Chicken w/ Quinoa and Broccoli
Serves 6
Orange Chicken Ingredients
2 lb. boneless, skinless chicken breasts, cut into bite-sized pieces
Sea salt & pepper
2 Tbsp. extra virgin olive oil
Orange chicken sauce (see ingredients below)
Toppings: thinly-sliced green onions, toasted sesame seeds, orange zest
Orange Chicken Sauce Ingredients
3 cloves garlic, minced
½ cup freshly squeezed orange juice
½ cup raw honey
1/3 cup low-sodium soy sauce
¼ cup rice wine vinegar
3 Tbsp. cornstarch
½ tsp. ground ginger
½ tsp. white pepper
Zest of one orange
Pinch of crushed red pepper flakes
Quinoa Ingredients
1 cup dry quinoa
2 cups organic low-sodium chicken broth
Instructions
1. Cook quinoa according to package directions using chicken broth as liquid and set aside.
2. To make orange chicken sauce: whisk all ingredients together until combined. If you would like the sauce to be even sweeter, add an extra 2 to 4 tablespoons of honey.
3. Season chicken generously with salt and pepper.
4. Heat oil in a large sauté pan over medium-high heat. Add chicken and sauté for about 4 to 6 minutes, stirring occasionally, until the chicken is browned and nearly cooked through.
5. Pour in the orange chicken sauce, and stir to combine. Let the sauce come to a boil, then boil for an additional minute or two until thickened. Remove from heat and serve immediately over quinoa. Garnish with green onions, sesame seeds and additional orange zest.