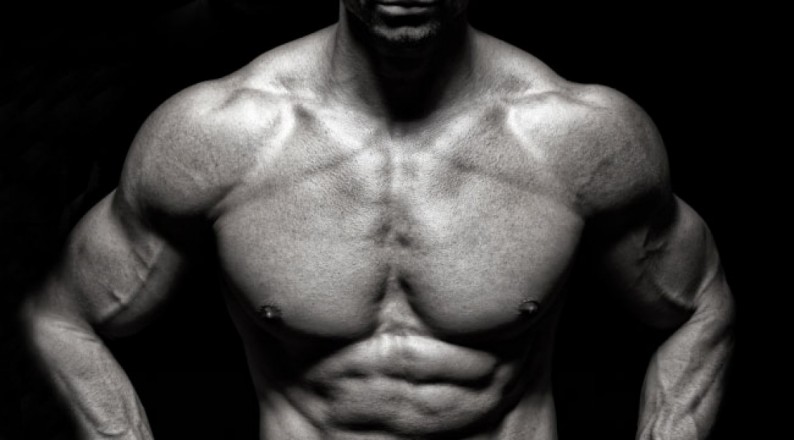 4 Top Moves for Sculpted Shoulders
These movements are great for sculpting Gladiator-like shoulders, and will also help improve your posture. Most of these movements can be done with either a dumbbell or kettlebell, whatever is available to you. If you've never used a kettlebell, ask a trainer for a brief tutorial to prevent injury, otherwise stick with the dumbbells.


Dumbbell (or kettlebell) Shoulder Press
• Sit upright on a bench with your back firmly against the pad, keeping your core tight and feet firmly planted to the floor.
• Bring the dumbbells up to shoulder height, raise them out to the side, and press overhead, keeping the dumbbells separate at the top of the movement.
• Slowly lower until your triceps are slightly below parallel. Hold for 1 second at the bottom and repeat.
• Make sure to keep your shoulders back at all times which will help with overall posture
Try this: Do it standing to increase the difficulty and core engagement.


Dumbbell (or kettlebell) Snatch
• Place a dumbbell in between your feet and stand with your legs slightly wider than shoulder width apart.
• Engage your core, explode upwards, and powerfully pull the weight up and overhead (the movement should look like a one-arm high pull into a powerful punch up towards the ceiling.
• Keep a strong back and maintain posture.
• Hold 1s at the top and slowly return down to start. Immediately repeat with the other arm. These are typically most effective when done in an alternating pattern since it needs to return to the floor each rep anyway
Try this: Pause at the bottom for 1s to avoid using momentum.


Dumbbell (or kettlebell) Push Press
*This movement allows you to use a slightly heavier weight since you are using momentum to get the weight overhead.
• Stand tall with two dumbbells over your shoulders. Hold them with a neutral grip (palms facing in).
• Dip down slightly, explode up, and press the dumbbells directly overhead.
• Hold for 1s at the top and lower the weights back down to your shoulders, keeping your core tight throughout.
Try this: More advanced athletes can "cycle" these by dipping as they "catch" the dumbbells back to their shoulders and explode right into the next rep.


Barbell Clean & Press, Push Press or Push Jerk (depending on ability level)
*A push jerk typically requires more technique and skill and allows for greater weight overhead, whereas, the press and push press can be muscled through. It all depends on your goals, muscles you want to target, whether you'd rather have more eccentric-type training, or if you're looking to improve technique.
• Stand tall with a loaded barbell on your thighs. Tighten your core, dip down slightly, shrug and powerfully pull (without bending your arms too early) the barbell up on to your collarbone (this is a hang clean). If doing the clean properly, in the dip-shrug portion, you should look like an archangel.
• Once at the shoulders in the front rack position, with elbows slightly forward, explosively press the barbell overhead. If push pressing or jerking, you may dip before pressing the bar overhead.
• Hold for 1s, slowly lower the bar back to your collarbone, and then drop it down to your thighs.
• Complete each clean & press in one fluid motion with a slight pause to catch at the collarbone in the front rack position.
Try this: More advanced athletes can start from the ground and either perform a power clean or squat clean to incorporate the whole body.
*I love this move because it also targets the traps (since you shrug and pull) and the upper back muscles, along with the core to maintain position.
by Samantha Coogan, MS, RDN, LD

Join our online training program today!
Guaranteed results or your money back!
Lose up to 21 pounds in 21 days!