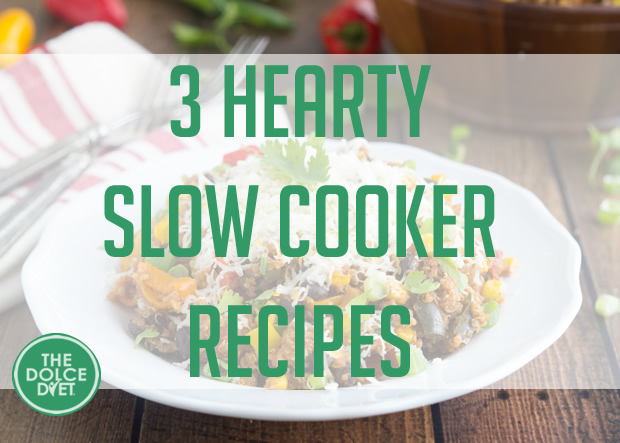 DOLCE LIFESTYLE:
3 Hearty Slow Cooker Recipes
Break out your Crock-Pots! Here are three delicious recipes that are sure to be a big hit when the family sits down for dinner. These healthy slow-cooker recipes also make for some delicious leftovers. Enjoy!
Slow Cooker Tex Mex Quinoa
Serves 6-8
Ingredients
• 1 ½ cups quinoa, dry, well rinsed
• 1 can (15 ounces) black beans, drained and rinsed
• 1 can (14.5 ounces) diced tomatoes, with juice
• 1 cup sweet peppers, chopped
• 1 poblano chili pepper, chopped
• ½ tsp. minced garlic
• ½ cup yellow onion, chopped
• 2 tbsp. chili powder
• 1 ½ tsp. ground cumin
• 3 cups water
• ¼ cup cilantro, chopped
• 1 tbsp. fresh lime juice
• 2-4 tbsp. taco seasoning
• 1 ½ cups mozzarella cheese, shredded
• Optional: green onions, salt and pepper to taste
Directions
1. Place the washed quinoa, drained and rinsed black beans, and undrained diced tomatoes in the slow cooker.
2. Chop the sweet peppers and poblano chili pepper (remove seeds if desired). Add the chopped peppers, minced garlic, and chopped onion to the slow cooker.
3. Stir everything together. Add in the chili powder, ground cumin, and water.
4. Stir again and cook for 3-4 hours on HIGH or until the water is completely absorbed and the quinoa is cooked through.
5. Remove from heat and stir in the chopped cilantro, fresh lime juice, taco seasoning to taste, and green onions if desired. Season with salt and pepper.
6. Stir in the mozzarella cheese and enjoy immediately.
Slow Cooker Stuffed Peppers
Serves 5-6
Ingredients
• 5-6 peppers with tops and middles removed
• 2 ½ cups cooked quinoa or brown rice
• 2 cups cashew cheese sauce
• 1 ½ cups cooked black beans
• 1 clove garlic minced
• ¼ cup onion diced
• ½ tsp. chili powder
• Juice from ½ a lime
• sea salt to taste
Directions
1. Cut open the peppers from the top and carefully remove the stems and middles.
2. Mix all the other ingredients in a large bowl.
3. Put a small amount of water in the bottom of the large crock pot.
4. Place the peppers in upright.
5. Stuff the quinoa mixture into each pepper.
6. Turn slow cooker on HIGH and cook for about 3 hours.
Slow Cooker Shredded Beef
Serves 6-8
Ingredients
• 1 pot roast
• ½ yellow onion, sliced
• ¼ green pepper, sliced
• ¼ red pepper, sliced
• 1 ½ cups low-sodium beef broth
• 1 tbsp. chili powder
• 2 tsp. onion powder
• 1 tsp. ground cumin
• 1 tsp. garlic powder
• 1 tsp. paprika
• 1 tsp. ground oregano
OR
• 1 packet low-sodium taco seasoning
Directions
1. Combine all ingredients and cook on LOW for 8 hours.
2. Serve with black beans, brown rice and gluten-free tortillas or taco shells