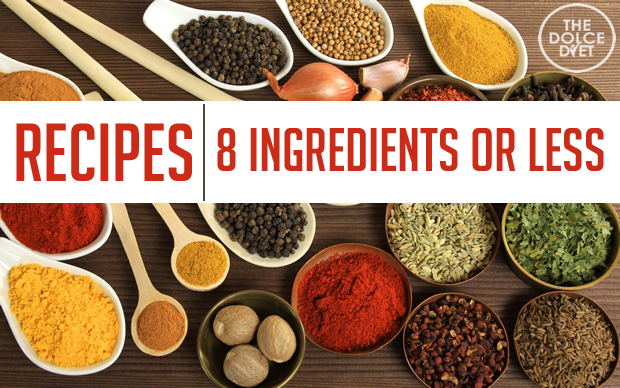 DOLCE LIFESTYLE:

Recipes in 8 Ingredients or Less
by Samantha Coogan, MS, RDN, LD
Creamy (Greek Yogurt) Mac & Cheese
Serves 4-6
Ingredients
• 8 oz. (about 2 cups) whole wheat or brown rice elbow pasta
• 8 oz. (about 2 cups) shredded cheese
• 1/2 cup plain Greek yogurt
• 2 cups fresh spinach
• salt & pepper, to taste
• 1/4 tsp. onion powder
• 1/4 tsp. garlic powder
Directions
1. Cook pasta per package instructions.
2. Place spinach leaves in bottom of strainer, and pour pasta over top to drain and wilt the spinach.
3. Save about ½ cup of pasta water and return cooked pasta and wilted spinach to pot.
4. Add about ¼ cup reserved pasta water to pot, and stir in cheese until melted.
5. Stir in Greek yogurt, onion powder, garlic powder, salt and pepper until smooth and creamy.
6. Stir in remaining pasta water to thin, if necessary.
---
Sweet Potato Steak Hash
Serves 6-8
Ingredients
• 2 whole sweet potatoes, cubed
• 3 tsp. grapeseed oil, divided
• 3 bell peppers, sliced, seeds and top removed
• 1 small onion, sliced
• 4 tsp. paprika
• 2 tsp. garlic salt
• cilantro * optional for garnish
• 1 grass-fed flank steak
• 2 tsp. sea salt
Directions
1. Heat grill pan over high heat and sprinkle each side of the steak with the sea salt.
2. Place the steak in the pan and turn down to medium heat.
3. Cook for 6 to 8 minutes and turn over, allowing it to finish cooking on the other side.
4. Remove from pan and tent with foil on a plate for 10 minutes.
5. In a large sauté pan over medium heat, add the first teaspoon of grapeseed oil and add the peppers and onion.
6. Cook until tender about 3 minutes. Add the potatoes and remaining grapeseed oil and cook until hot all the way through and golden on the outside.
7. Meanwhile, chop the steak, and once the potatoes are cooked, add the steak. Toss and allow to cook an additional 2 minutes. Serve with fresh cilantro for a little freshness.
---
Black Bean Soup
Serves 2-4

Ingredients
• 3 (15 oz) cans organic black beans, with liquid
• 1 lb. (about 2.5 cups) organic salsa
• ½ cup chopped fresh cilantro, loosely packed (plus extra for garnish)
• 2 tsp. ground cumin
• 1 clove garlic, minced

Directions
1. Stir all ingredients together in a medium saucepan.
2. Heat over medium-high heat until simmering.
3. Reduce heat to medium-low, cover and simmer for at least 10 minutes, stirring occasionally.
4. Serve soup warm topped with additional fresh cilantro as garnish.