3 Easy Crock-pot Recipes We Love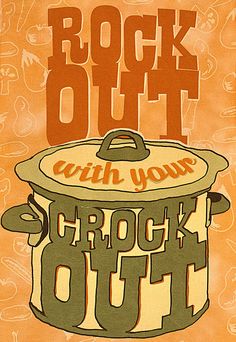 What's easier, and less stressful, than coming home to a warm, home-cooked meal without having to do any of the work? That's why I love slow cooker recipes. You can usually prep the night before, or in the morning before you leave, and all you do is plug in your slow cooker and go about your day. Plus, your house becomes filled with the tasty aroma of that night's dinner.
I also like slow cooker recipes because it usually makes whatever cut of meat you're using more tender than usual, especially bone-in chicken and beef. And the prep work is usually very minimal. Here are 3 slow-cooker recipes you're sure to love!

Balsamic Roast Beef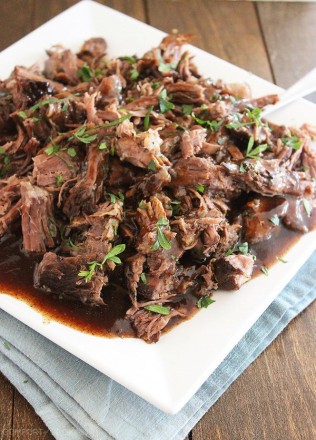 Ingredients
• 3-4 pound boneless roast beef (chuck or round roast)
• 1 cup organic, low-sodium beef broth
• ½ cup balsamic vinegar
• 1 tbsp. Worcestershire sauce
• 1 tbsp. low-sodium soy sauce
• 1 tbsp. honey
• ½ tsp. red pepper flakes
• 4 cloves garlic, chopped
Directions
1. Place roast beef into slow cooker.
2. In a 2-cup measuring cup, mix together remaining ingredients.
3. Pour over roast beef and cook on HIGH for 4 hours OR on LOW for 6-8 hours.
4. Once roast beef has cooked, remove from slow cooker into a serving dish.
5. Break apart lightly with two forks and then ladle about ¼ – ½ cup of gravy over roast beef.


Steak Fajitas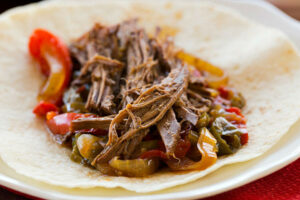 Ingredients
• 1 ½ lbs. grass-fed flank steak
• 1 ½ tsp. chili powder
• 1 tsp. cumin
• 1 tsp. coriander
• ½ tsp. salt
• ¼ tsp. black pepper
• 2 tbsp. low-sodium soy sauce
• 1 jalapeno pepper, seeded and chopped
• 2 cloves garlic, minced
• 4 – 5 bell peppers, any color
• 1 onion
Toppings
• Whole-wheat tortillas, grated cheese, fresh sliced avocado, cilantro, lime slices, fresh spinach leaves, Greek yogurt (a healthier alternative to sour cream), hot peppers, etc.
Directions
1. Mix dry spices with a fork including the chili powder, cumin, coriander, salt and pepper.
2. Rub the spice mixture over all sides of the steak and place in the bottom of the slow cooker.
3. Sprinkle the soy sauce on top.
4. Top the flank steak with the diced jalapeno and minced garlic.
5. Slice the bell peppers and onion and place on top of the steak as well.
6. Cook on HIGH for 5-6 hours or until the steak can easily be shredded with two forks.
7. Drain the meat and peppers well.
8. Serve with the desired toppings from above.


Pineapple Chicken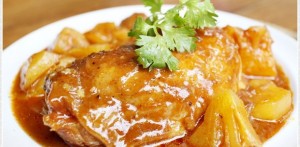 Ingredients
• 3-4 chicken breasts or 2 lbs.
• 10 oz. pineapple, chunked (save any extra juice or about ¼ organic pineapple juice)
• 1 medium onion
• 2 tbsp. soy sauce
• ½ cup organic, low-sodium chicken broth
Directions
1. Chop onion and place in crock pot.
2. Place chicken on top of onion.
3. Place pineapple and juice over chicken.
4. Pour soy sauce and chicken broth on top of everything.
5. Cover and cook on HIGH for 4-5 hours OR on LOW for 6-8 hours.
6. Serve over rice and with a steamed veggie.
by Samantha Coogan, MS, RDN, LD
---