Vitor Belfort: A Warrior Reborn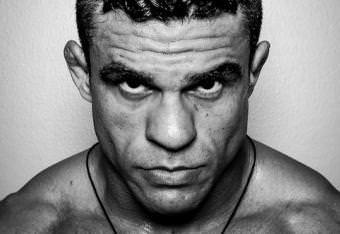 by Duane Finley, Bleacher Report Features Columnist Photo courtesy of Ryan Loco
Throughout a legendary career filled with triumph, defeat, validation and hardship, Vitor Belfort is still standing tall.
Over his 17 years competing on the biggest stages across the sport of mixed martial arts, "The Phenom" has developed a passionate fanbase and a reputation for being one of the most dangerous fighters to ever step into the cage.
Working behind a unique mixture of speed, power and ferocity, the 35-year-old's drive has navigated him across multiple eras as he's faced a collection of the best fighters to ever compete.
Next Saturday night in Sao Paulo, Brazil, Belfort will look to further his legacy when he squares off with Michael Bisping in the main event at UFC on FX 7. This middleweight tilt may not carry the weight of some of his past bouts, but make no mistake about it, Belfort is looking at his showdown with "The Count" as if everything is on the line.
That being said, when the Octagon door closes and the time to handle business comes to call, the rejuvenated warrior spirit of Belfort will bring the fight to Bisping's front door.
"I'm really focused to fight and it's more like an outside vision," Belfort told Bleacher Report. "I'm like a Navy SEAL going to war. I'm not focused on the politics, just give me the mission and let me accomplish it.
"When a mission is given to a Navy SEAL, they say turn your back and let me do what I'm here to do. Now this fight is my mission. I don't care about the politics or anything else. I'm focused on accomplishing the mission. I'm very focused right now.
"I'm ready, man. I'm more ready than ever. Better than ever. Fresher than ever. Happier than ever. I'm ready."
The bout between Belfort and Bisping will feature two fighters on different trajectories. The former TUF winner has won five or his last six showings, and has positioned himself at the doorstep of a potential title shot.
UFC President Dana White recently stated the brash Brit would earn the next opportunity to face champion Anderson Silva should he find success against Belfort in Sao Paulo.
While the former light heavyweight champion may not be in reach of a rematch with "The Spider," Belfort is still very much positioned at the top of the game.
In his last outing against Jon Jones at UFC 152, Belfort nearly shocked the world by grabbing, and nearly locking up an armbar in the first round against the young superstar. "Bones" would eventually break free and go on to win with a submission of his own in the fourth round.
The fight with Jones showed a portion of his game which many of have overlooked. Due in large part to his one-punch knockout ability, Belfort's ground game is overshadowed, and he sees a tactical edge in the fact his submission skills are not something his opponents are worried about.
"That gives me an advantage," Belfort said. "I have a lot of things people don't see. There are a lot of things I've accomplished. I'm the type of guy where I go to the gym to work hard. Fighters are made in the gym and we achieve things through sacrifice.
"That is how things are in life. If you want something, you have to work hard at it. God gave you the talent and the gifts, but you have to work hard if you want to use them.
"That's how I approach everything I do. If I want to be a good dad, I need to work hard to be a good dad. If I want to be a good husband, I need to work hard to be a good husband. But you are never going to be anything if you don't work hard.
"In this fight I have to go out there and do what I do. That's it. There isn't much to think about, only to act. I have to go out there, do what I do, and fight my game. It's not about him. It's about me.
"That is how we should think when we step into competition. When Michael Jordan stepped into competition, it wasn't about what the other team was going to do; it is about what he was going to do."
Throughout his career, Belfort has competed in multiple weight classes. He has found success in every division, but the past two years, the Rio de Janeiro native has made a home fighting at 185 pounds. In order to make what was historically a difficult cut much easier, Belfort sought the guidance of Mike Dolce.
Where many consider the former TUF competitor to be a nutrition guru, Dolce is more comfortable with the title of "longevity advocate," as his methods reach much further than dietary assistance. Belfort credits Dolce, and his Blackzilians team, for making his rejuvenation possible.
"Mike is a great friend of mine and a guy with a lot of knowledge," Belfort said. "He is not here full-time, but I know how he works and the meals we need to work into the plan. He knows I'm very dedicated and we are working hard together.
"We have a very good relationship and he's been a big help for this fight. I tip my hat to Mike. He works very hard and he's very passionate about it.
"I'm very happy to have Mike and the other guys on my team like Henri Hooft and my other coaches working with me. They are all great guys. Along the way, we have trained together and developed friendships. I'm a very happy guy."
Next Saturday night, when Belfort steps in against Bisping, it will be yet another high-profile fight to add to his legendary resume. He will be competing against a surging contender who is considered to be one of the world's best at 185 pounds.
While it is impressive for a 17-year veteran to still be performing at such a high level, the accomplishment becomes amplified when a look at his resume reveals a majority of the fighters he's faced in the past, have long since vanished from the sport. This isn't a reality lost upon him, and Belfort is proud of the journey traveled.
"Oh man, it's amazing," Belfort said. "I was just thinking the other day that I have been fighting for so long, for so many years, and it's gratifying not only being able to fight, but to perform with the best. The sport is so hard on your body but I feel young.
"Randy Couture became a champion at 34 years old. I became a champion at 19 years old. I've worked so hard, but I'm still young and I thank God every day. I'm very thankful to God.
"When people talk about my name, I just want to be remembered as a guy who always gave his best. No matter what I'm doing, I want to give my best. That's how I want to be remembered."

Duane Finley is a featured columnist at Bleacher Report. All quotes are obtained first hand unless noted otherwise.