3 Chicken Recipes For Your Crockpot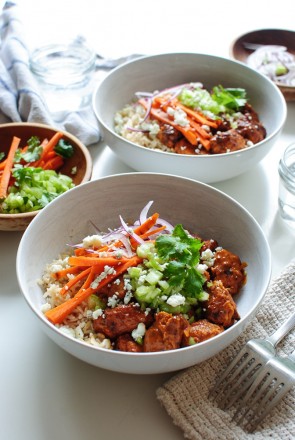 Buffalo Chicken Bowls
Ingredients
• 2 cans black beans
• 3 avocados, diced
• A pint of cherry tomatoes, halved
• 6 chicken breasts
• 1 cup buffalo sauce
• 1 tbsp. garlic, minced
• 1 packet Greek yogurt dressing – dry seasoning
• 1 1/3 cups plain Greek yogurt
• 3 tbsp. almond milk
Directions
• Cook chicken, garlic and hot sauce to slow cooker and cook on LOW for 6 hours or on HIGH for 3 hours.
• When chicken is cooked through, shred it and set aside.
• In a separate small bowl mix together your Greek yogurt dressing, Greek yogurt and almond milk and stick it in the fridge.
• Drain and rinse black beans and add them to a bowl, then add tomatoes and avocado, topping with chicken, and topping off with Greek yogurt ranch mix.
Sweet-N-Spicy Chicken
Ingredients
• 2 lbs. chicken breasts
• 1/3 cup honey
• 1/3 cup coconut aminos
• 1 tbsp. chili garlic sauce
• ½ tsp. sea salt
• ½ tsp. black pepper
• 1 tbsp. sesame seeds, for garnish
Directions
• Place chicken into the bottom of crockpot.
• Mix remaining ingredients together in a bowl then pour over chicken.
• Cook on LOW for 4 hours.
• Remove chicken and pour sauce into a sauce pan.
• Simmer for 20 minutes, stirring occasionally, until the sauce has reduced to ¼ the amount.
• Pour sauce over chicken and sprinkle with sesame seeds.
Chicken Philly Cheese Steaks
Ingredients
• 2 lbs. boneless skinless chicken breasts
• 1 cup low-sodium chicken broth
• ¼ tsp. salt
• ¼ tsp. pepper
• ¼ tsp. garlic powder
• ¼ tsp. paprika
• 1 large (or 2 small) bell peppers, sliced
• 1 medium onion, sliced
• 2 cups sliced mushrooms
• salt and pepper to season the bell peppers, onions, and mushrooms
• Sprouted grain buns
• Swiss cheese
Directions
• Place the chicken breasts into a 4-quart or larger slow cooker, and pour over the chicken broth. Season the chicken with the salt, pepper, garlic powder, and paprika (DO NOT add veggies yet).
• Cover and cook on LOW for 6.5 hours.
• After the chicken has cooked, place the sliced vegetables on top of the cooked chicken.
• Cover and cook on HIGH for 1.5 hours more then shred chicken with 2 forks.
• Using tongs place the meat onto hoagies (tap as much liquid of the meat before placing on the bread), and top with cheese.
• If desired, place the sandwiches open-faced under the broiler in the oven to toast the buns and melt the cheese.