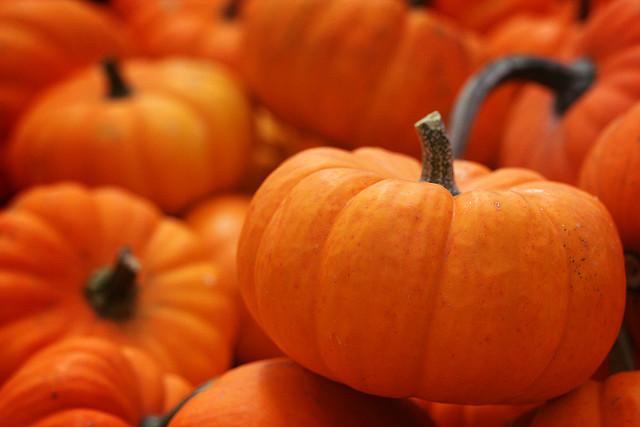 4 Fall-Inspired Dessert Recipes
By Mary Spiegelberg, Dolce Diet Intern
It's time for sweater weather and pumpkins! You didn't think we'd let you get through this glorious season without some delicious pumpkin recipes did you? Here are 4 #DolceApproved pumpkin creations you do not want to miss this season!
Pumpkin Spice Quinoa Bake
Don't let the quinoa fool you, this is a delicious breakfast treat!
Ingredients
2/3 cup warm water
1 banana
2 Tbsp. organic pumpkin puree
1 Tbsp. maple syrup
1 tsp. coconut oil, melted
¼ tsp. pure organic vanilla extract
1 tsp. pumpkin pie spice
¼ cup raw quinoa
For the Topping
¼ cup raisins
¼ cup raw pecans, chopped
2 Tbsp. almond flour
2 Tbsp. maple syrup
1 Tbsp. coconut flour
½ tsp. cinnamon
½ tsp. nutmeg
Sprinkle of sea salt
1 Tbsp. coconut oil
~Quick Recipe~
• Preheat oven to 350 degrees F. Mash banana in bowl first. Add banana, water, pumpkin puree, maple syrup, coconut oil, vanilla and pumpkin pie spice to an 8" X 8" casserole dish or round cake pan. Stir to combine. Then add quinoa.
• Cover with glass lid or foil and bake for 45 minutes, or until most of the liquid is gone.
• While the casserole is cooking, work on the topping. Add pecans, raisins, almond flour, maple syrup, coconut flour, cinnamon, nutmeg and salt to a small bow. Mix well, then stir in coconut oil. Put the bowl in the freezer.
• Once casserole is done, remove it from oven, take off the cover and top with the crumbled topping. Then bake uncovered for about 12 minutes, or until topping browns.


Nutty Pumpkin Bread
Whether it accompanies your morning coffee or enjoyed as a mid-morning snack, this bread might just become a staple in your diet this fall.
Ingredients
1/3 cup melted coconut oil
½ cup honey
2 eggs
1 cup pumpkin puree
¼ cup almond milk
1 ½ tsp. pumpkin spice blend (or ½ tsp. cinnamon, ½ tsp. ground ginger, ¼ tsp. ground nutmeg, and ¼ tsp. allspice or cloves)
1 tsp. baking soda
1 tsp. vanilla extract
½ tsp. salt
1 ¾ whole wheat flour
½ cup walnuts
Pinch of ground cinnamon
~Quick Recipe~
• Preheat oven to 325 degrees F and grease a 9" x 5" loaf pan with coconut oil.
• In a large bowl, beat the oil and honey together with a whisk. Add the eggs and whisk until blended. (If your coconut oil solidifies on contact with cold ingredients, simply let the bowl rest in a warm place for a few minutes, like on top of your stove.)
• Add the pumpkin puree, milk, pumpkin spice, baking soda, vanilla and salt, and whisk to blend. Lastly, switch to a big spoon and stir in the flour, just until combined. Some lumps are ok! If you're adding any additional mix-ins, gently fold them in now.
• Pour the batter into your greased loaf pan and sprinkle lightly with cinnamon. If you'd like a pretty swirled effect, run the tip of a knife across the batter in a zig-sag pattern.
• Bake for 55 to 60 minutes, or until a toothpick inserted into the center comes out clean. Let the bread cool in the loaf pan for 10 minutes, then transfer it to a wire rack to let cool for 20 minutes before slicing.

Flourless Chocolate Chip Pumpkin Muffins
No flour? No problem! Try this delicious muffin recipe for a quick on-the-go breakfast or after-dinner treat.
Ingredients
1 cup pumpkin puree
1/2 cup pure maple syrup
2 eggs
1 tablespoon vanilla extract
4 tablespoons almond butter
1/4 cup unsweetened vanilla almond milk
2 and 1/4 cup rolled oats
1 teaspoon baking powder
1/2 teaspoon baking soda
1/2 teaspoon salt
1 teaspoon cinnamon
1/2 cup dark chocolate chips
~Quick Recipe~
• Preheat your oven to 350°F and grease or line a muffin tin for 12 muffins.
• Start with the wet ingredients first, your pumpkin, maple syrup, eggs, milk and almond butter and layer them into a blender or food processor, continue this process with all of the ingredients except the chocolate chips. Blend until you get a smooth consistency.
• Using a spoon, gently stir the chocolate chips into the batter.
• Pour your batter into the muffin tin and fill each about 3/4 of the way full. Bake in the oven for 22 minutes until they are a light golden brown.
• Allow your creations to cool for at least 10-15 minutes before enjoying.


Peanut Butter Pumpkin Chocolate Cups
Ingredients
The Pumpkin
2 tablespoons melted unrefined coconut oil
½ cup pumpkin puree
3 tablespoons natural peanut butter
1 ½ tablespoons organic maple syrup
½ teaspoons ground cinnamon
The Chocolate
½ cup melted unrefined coconut oil
½ cup cacao powder
1 ½ tablespoons organic maple syrup
~Quick Recipe~
• Line a muffin tin with 10 liners.
• Combine all chocolate ingredients into a small bowl and mix until combined. Add chocolate to each muffin (thin layer, ~1/2 Tbsp.). Freeze for 15 to 20 minutes.
• Combine all pumpkin ingredients and mix until well combined. Add pumpkin to each muffin (~ 1 Tbsp.).
• Complete with second chocolate layer and freeze for ~60 minutes. Enjoy!


Mary Spiegelberg currently is pursuing a degree in Dietetics and Food Administration with a minor in Food Science at Cal State Long Beach. Her primary field of concentration is Sports Nutrition. She is a member of UCLA's Performance Nutrition Team, who work to fuel, sustain and improve performance of collegiate athletes. She is a Newport Beach native and proud owner of Hooked Boxing, LLC.