4 Tasty Cheese Alternatives
By Amber Lowry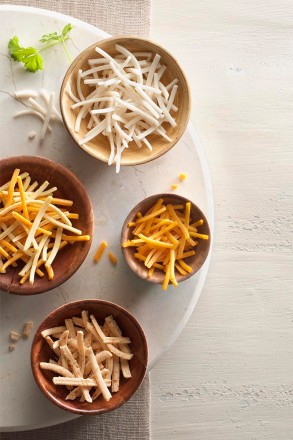 It's safe to say that most people love cheese. But many have a difficult time consuming dairy. If you're one of these people and find yourself struggling to let go of this addictive food, fear not! Below are a handful of dairy-free options that can help ween yourself off of conventional cheese.
1. Avocado
It's no secret that avocado is a great source of healthy fat, fiber and various vitamins like C and K. The versatile texture of avocado makes it a perfect addition to omelets and sandwiches for satisfying that thick, creamy cheese craving minus the dairy. Slice, dice or mash it up to fit any dish that calls for a smooth, rich element.
2. Nut Cheese
A hit within vegetarian and vegan circles, nut "cheeses" like cashew and almond are a good source of healthy fats and are perfect for pastas, pizzas and dips. There are a variety of recipes online. Many brands sell all types of cheese pre-made at your nearest Whole Foods or local health food store.
3. Hummus
Hummus is undoubtedly tasty and comes in a variety of flavors like garlic, hot pepper and olive, making it the perfect spread for those who can tolerate legumes. Spread it on your sandwich or use it as a dip for veggies and crackers.
4. Nutritional Yeast
Providing that cheesy taste so many crave on dishes like soup, pasta and mashed potatoes, nutritional yeast is full of protein and nutrients like vitamins, minerals and amino acids. With a texture similar to flakes or shakable parmesan cheese, you can make it yourself or buy it pre-made at just about any health food store.