5 Foods You Probably Are Not Storing Correctly
By Mary Spiegelberg
NUTS
While most of us store nuts in the pantry, did you know the natural oil in nuts can cause rancidity? This rancidity creates a sharp and bitter flavor. Refrigerate nuts in a small container or Ziplock baggie and they'll stay fresh for up to a year!
FLOUR
Whole wheat flour is often bought in bulk and stored in the pantry, but did you know that the pantry is only an ideal storage place if the flour will be used in three months? For extended storage flour should be popped straight into the freezer. Running low on freezer space? You can extend flour's pantry lifespan by storing flour in an airtight container for up to 5 months. Remember to mark the day of purchase on your whole wheat flour container to better keep track of the time.
ONIONS
Onions that are whole and unpeeled are best stored in dry and well ventilated places such as a counter top. Onions should not be stored in plastic bags because the decline in air movement will shorten their storage life. Does your recipe only call for half an onion? Store the remaining half in a sealed container in the fridge. Cut onions last between 7 and 10 days.
CELERY
Who else throws celery in the fridge using the plastic vegetable bag we got from the store? Not anymore! Plastic traps gas naturally emitted by celery and causes it to go limp. By storing your celery in foil, the gas is able to escape naturally, leaving celery nice and crisp! Wrap your celery in foil and throw it in the crisper drawer! Not a fan of tin foil? Celery can also be stored in a refrigerated large glass sealed bowl filled with water. Before adding the celery to the water, make sure you dismantle the celery by stripping the leaves and cutting the stalk in half. Water should cover the celery. Make sure to change the water on a daily basis.
AVOCADOS
Unripe avocados will keep for 4 to 5 days on the counter at room temperature. To speed the ripening process, place the avocados in a brown bag. If an avocado is fully ripe, transfer it from the counter top to the fridge. If you need to buy a little more time before consumption, slow the ripening process by refrigerating the avocado in a sealed plastic bag.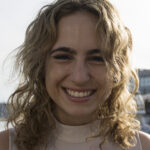 Mary Spiegelberg is a future dietitian currently pursuing a degree in Dietetics and Food Administration with a minor in Food Science at Cal State Long Beach. Primary field of concentration in Sports Nutrition. Member of UCLA's Performance Nutrition Team who work to fuel, sustain and improve performance of collegiate athletes. Newport Beach native and proud owner of Hooked Boxing, LLC. Spin, fight and travel enthusiast!