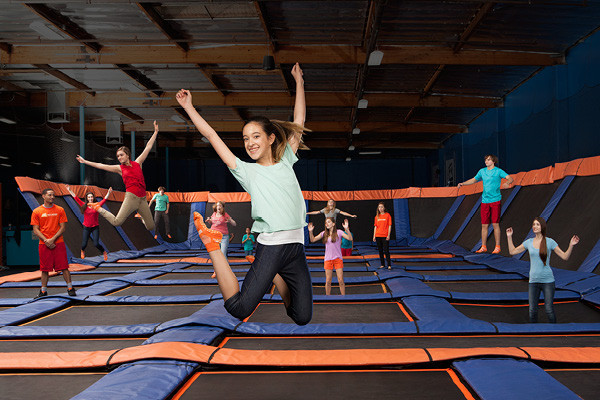 5 Fun Activities That'll Keep You Moving
by Amber Lowry
Calling all weekend warriors! Fun with friends isn't limited to alcohol-induced late nights sitting on a bar stool. Having a good time while maintaining your health goals just takes a little thinking outside the box, so we at the Dolce Diet took the liberty of gathering a few fun outing ideas that will keep you moving and engaged with friends.
1. Trampoline park
Rather than spending your weekend loading up your body with toxins, why not have fun while naturally detoxifying? Trampoline parks are home to (you guessed it) trampolines, which are great for rebounding. Rebounding can promote weight loss and help your body to detoxify by activating your lymphatic system, which is responsible for cellular waste management and needs physical activity to work properly. So basically, jumping around like a toddler stimulates your body to detox. Hitting up a trampoline park is fun for families, with some parks extending their hours on weekends to accommodate adult crowds.
2. Arcade
Think arcades are just for kids? Think again! There are tons of retro gaming arcades around the country that are becoming popular with 80s/90s babies. Filled with both classics and new favorites, some places even have physically challenging games that'll get your heart rate up.
3. Escape rooms
Help keep your mind sharp while building team skills with escape rooms. Escape rooms are basically the real life versions of escape room video games, where players solve puzzles to unlock their freedom from a scary or dangerous space. Said room is fictional, and can be anything from a creepy paranormal nightmare to a prison break. That feeling of communal accomplishment from finding your way out can be a fun way to bond while avoiding a Sunday morning hangover!
4. Intramural sports
Remember how fun it was to play an impromptu game of basketball with the boys? Or how therapeutic a family game of volleyball used to be? Resurrect some of that nostalgic athletic fun by gathering friends and loved ones for a game of whatever you want! Indoor gyms and activity centers can accommodate games that take place during the colder months. Joining a local intramural team could also be a great investment if you can't manage to convince the people on your life to join you on the court or field.
5. Dancing
You don't have to have rhythm to enjoy the health benefits of dancing! Research has shown that the benefits of dance surpass exercise by helping to stimulate improved cognitive and social functioning in older people. Getting a head start on healthy aging by shaking that booty might be the best nightlife compromise you can make! There's always that one friend who wants to go out dancing, so why not use that opportunity to stay active and mingle?
References Cheng, E. (2016, Jun 21). Real-life 'escape rooms' are new US gaming trend. CNBC. http://www.cnbc.com/2014/06/21/real-life-escape-rooms-are-new-us-gaming-trend.html Cugusi, L. et al. (2016). Effects of a mini-trampoline rebounding exercise program on functional parameters, body composition and quality of life in overweight women. The Journal of Sports Medicine and Physical Fitness. http://www.minervamedica.it/en/journals/sports-med-physical-fitness/article.php?cod=R40Y9999N00A16072107&acquista=1 Queen's University, Belfast. (2009, April 10). Dance Your Way to Successful Aging. ScienceDaily. www.sciencedaily.com/releases/2009/04/090401103127.htm