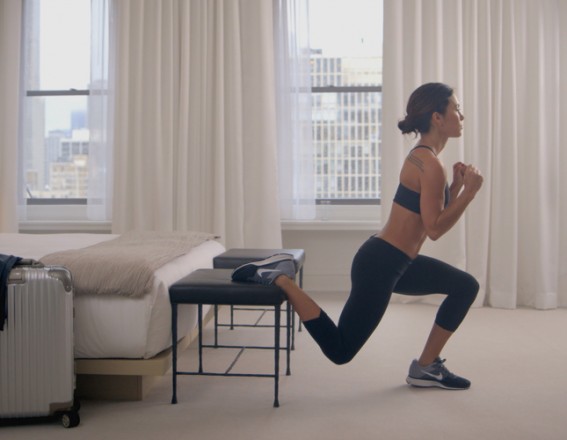 7 Exercises You Can Do Anywhere
These bodyweight movements target specific muscle groups without the use of equipment.
1) Quads
• Lunges (walking, in-place, jumping)
• High knees
• Burpees
2) Glutes
• Air squats
• Donkey kicks
• Glute bridge
• Jumping knee tucks
3) Triceps
• Close-grip push-ups (hands under armpits, elbows pointed back)
• Dips (use a chair, side of the bed or a bench)
• Turkish Get-Ups (no weight required)
• Plank holds (push-up stance or on elbows)
4) Biceps
• Body rows (set up underneath a bar/apparatus and pull body up to it – may keep knees bent to make it easier or straighten them for more of a challenge)
• Chin-ups (palms facing you)
• Pseudo plank (fingers points back vs. forward)
5) Back
• Pull-ups (palms facing away from you)
• Elbow lifts (reverse plank)
• Superman
• Star plank (wider stance on both hands and feet)
6) Chest
• Push-ups
• Clapping push-ups
• Shoulder taps
• Plank rotation

7) Abs/Core
• Sit-ups
• Flutter kicks
• Leg raises
• Elbow planks

What did you think about this article?
Leave your comment below!