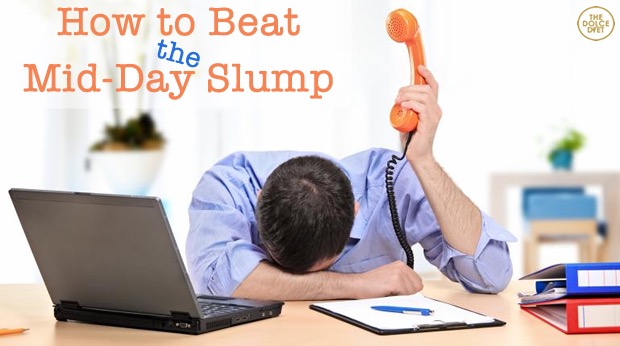 Tired? How to Beat The Mid-Day Slump
& Boost Your Energy
by Samantha Wilkinson, MS, RDN, LD
Physical activity is a large part of increasing longevity. However, sometimes our jobs don't allow much movement. You've probably heard that staying sedentary will increase your risk heart disease, obesity, and diabetes, which would lead to an increased risk of death at a younger age. But, there is an easy fix to sitting for too long!
Researchers have reported that a decrease in the function of the legs' arteries occurs within only an hour of sitting. However, blood flow can be restored in just five minutes!
Get Your Blood Flowing!
Here are some no-sweat things to do to reverse the damage to your legs' arteries.
• Take a 5-minute walk around the office or courtyard.
• Take a quick hike up and down the stairs (at a steady, easy pace).
• Offer to walk around the corner for a coffee run for your coworkers.
• Ask a coworker to go on a walk around the office or to just get up and get a snack with you.
• Stand up and stretch at your desk. (Who cares what other people think! It's YOUR health, not theirs!)
• Get up to use the restroom, even if it's just to wash your hands.
• Take advantage of your lunch break as an extended period to keep moving. Most people have a half hour to one hour lunch break, so try to walk to a close restaurant or to a park to eat your lunch there.
---