Andy Brisk shared his story with us through The Dolce Diet Facebook page. If you have a personal health success story you'd like to send us, please do so either on our Facebook page or by using the Contact page. Be sure to check out Mike's thoughts on Andy's story on Ep. 17 of The Mike Dolce Show!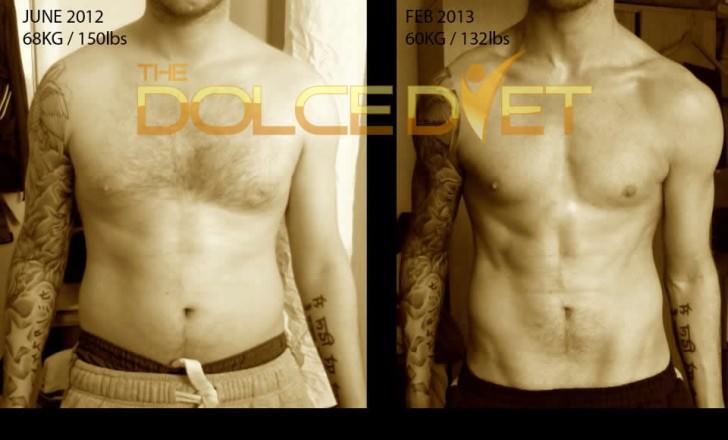 ---
Hi guys,
My name is Andy, I live in Liverpool, UK. I'm 28 years old, 5ft 8.
I just wanted to share my story with you. You guys have really kept me motivated, I listen to the podcasts constantly and own both of your Living Lean books. I have been in and out of gyms since I was 18. I would get so far but then my progress would halt because I never changed my diet, and I didn't know anything about food, or even cooking. Before I got your books, I could not even cook! So I learned (still learning!) how to cook by using your recipes. What a great way to start.
I'm a small guy, everyone has always told me 'you don't need to lose weight,' 'You're too skinny,' etc., but I knew better, I was 'skinny fat,' and I hated it. I eventually became disgusted with what I had done to my body and decided that I needed to change my lifestyle. I was tired of feeling horrible and sorry for myself all the time. I got hold of Living Lean and read it a couple of times. It really changed my outlook towards food and training, and off I went. I have not been to the gym in months, instead I got hold of DVD home training program and stuck to it religiously, I still do, and when UFC FIT comes out I'll be jumping straight onto it for a change.
Thanks to your podcasts and books, I understand just how important food is when we're trying to get lean and fit. I learned the hard way that training will only get you so far. I'm so much more motivated these days, and I will NEVER go back to what I was, EVER. I still have a long way to go, but I'm up for the challenge and with your coaching I know I'll be just fine!
So guys, thanks for the knowledge you share with us, and for keeping us accountable and motivated. You made a real difference in my life!
BOOOOOM!
-Andy Brisk