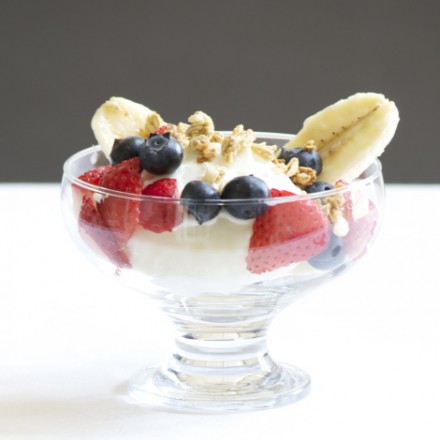 3 Easy Muscle Building Recipes
Building muscle should be a fun process. And that includes what you put in your mouth. Try out these fun recipes that will not only satisfy your pallet, but also your recovering body. Remember, the better we recover and fuel, the better the results!
---
Big Boy (or Girl) Scramble
• 6 egg whites (ladies reduce to 4 egg whites)
• 2-3 thick asparagus spears, sliced
• ½ cup cooked brown rice and quinoa mix (1/4 cup for ladies)
• 1 sweet mini red bell pepper, sliced
• Garlic, pepper and pinch of sea salt
• ½ pink grapefruit
• 1 scoop of The Dolce Whey protein isolate
Directions
1. Set oven to 405 degrees F.
2. Lightly coat a cast iron skillet with coconut oil.
3. Add cooked brown rice and quinoa to the skillet.
4. Pour in egg whites, and then add asparagus strips and bell pepper slices.
5. Bake for 15-18 minutes (or until eggs are cooked).
---
Post-Workout Banana Split
Pictured above
• 1 medium banana
• ¾ cup non-fat Greek yogurt
• ½ scoop
The Dolce Whey protein isolate
• 1 strawberry, chopped
• ¼ cup blueberries
• 1 tbsp. granola
• 1 tbsp. dark chocolate chips
Directions
1. Slice banana in half lengthwise and lay both sides on a plate.
2. Mix together protein and Greek yogurt, and spoon on top of the bananas.
3. Top bananas and protein mixture with berries, granola, and chocolate chips.
---
Eggs in a (Pepper) Frame
• 2 whole eggs
• 6 egg whites
• 1 cup raw spinach
• ¼ cup brown rice
• ½ bell pepper (any color)
• Pico de gallo (optional)
Directions
1. Cook egg whites and brown rice separately.
2. Mix together and add spinach.
3. Cook until spinach is wilted. Set aside.
4. Cut bell peppers to create 2 thick rings.
5. Lightly coat another skillet with coconut oil and set on medium heat.
6. Place bell peppers rings in the skillet and crack the eggs inside the bell pepper.
7. Cook egg completely.
8. Place cooked pepper rings and egg/brown rice mixture on a plate. Top with pico de gallo if desired.
by Samantha Coogan, MS, RDN, LD

Join our online training program today!
Guaranteed results or your money back!
Lose up to 21 pounds in 21 days!