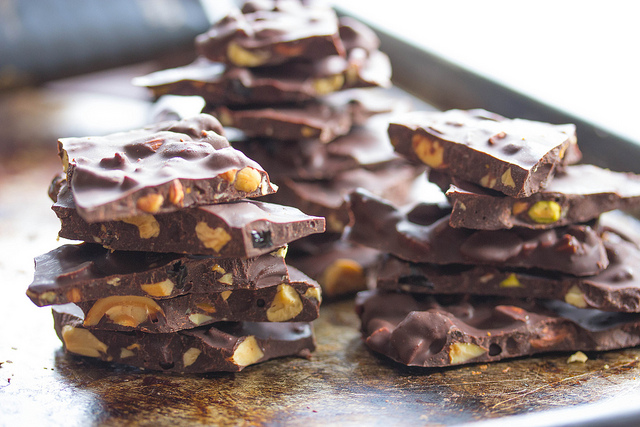 3 Sweet Treat Recipes For Any Occasion
By Mary Spiegelberg, Dolce Diet Intern & Nicole Kiley, MSc, RD
Tis' the season of holiday parties and goody bags! The potluck table has enough store-bought dessert. Be the life of the party and bring these freshly-made holiday treats! Shhhh… no one has to know they also have nutritional value! It's a Dolce trick-or-treat!


Chocolate Covered Fruit Kabobs
The Goods:
2 large bananas, sliced thin
2 cups strawberries, sliced thick
¾ cup blueberries
¾ cup raspberries
½ cup organic dark chocolate chips
½ tsp. coconut oil
¼ cup unsweetened shredded coconut
1/3 cup roasted salted almonds, finely chopped
10 to 12 wooden skewers
The Method:
• First, slice and separate fruit into piles. Line a dish or baking sheet with parchment paper.
• Place chocolate chips in small pot and heat on low. Stir until completely melted. Once melted, stir in coconut oil and set aside.
• Thread fruit onto skewers leaving a couple inches open at the bottom. Place skewers on baking sheet.
• Using a fork, drizzle skewers with desired amount of melted chocolate. It will harden nicely at room temperature due to the coconut oil. Sprinkle desired amount of coconut and almonds. Store in the fridge fro up to 3 days.


Sweet Cherry Popcorn
The Goods:
6 heaping cups organic popped corn
¼ cup agave nectar or honey
¼ cup room temperature creamy natural peanut butter or almond butter
1/3 cup pretzels
¼ cup organic dark chocolate chips
2 tablespoons finely chopped dried cherries
The Method:
• In small pot, heat chocolate chips on low. Stir until melted completely. Dip pretzels and place on parchment paper. Let cool in freezer for 10 minutes. Take pretzels out of freezer and finely chop.
• Line a baking sheet with wax (or parchment) paper.
• Grab a medium bowl and fill with ice water.
• Combine your honey and peanut butter in a small sauce pan and cook over medium heat. Stir your mixture gently and consistently. When your mix begins to bubble, stir for an additional 15 seconds. Pour the mix evenly over the popcorn and mix softly with a wooden spoon. Mix until popcorn is well and evenly coated. Grab your dark chocolate covered pretzels and chopped cherries and stir them into the mix.
• Now for the ice water, dip both of your hands into the water and press small handfuls of your popcorn mixture into 2 inch balls. Place the balls on your prepped baking sheet. If you aren't satisfied and your balls seem a bit fragile, feel free to dunk your hands back into the ice water and squeeze the balls to better keep them together.
• Let the balls cool completely. Bag your balls in Halloween themed plastic wrap and suddenly you have the perfect goody bag to send home with your party guests!


Dark Chocolate Bark
The Goods:
1/2 cup toasted hazelnuts, chopped
16 ounces dark chocolate
1 teaspoon vanilla extract
1 teaspoon ground cinnamon
1 cup brown rice cereal
The Method:
• Line a large baking sheet with parchment paper set aside. Toast hazelnuts in a dry pan until warmed and fragrant. Let the nuts cool, then chop and set chopped pieces aside.
• In a double boiler or small pot, slowly melt chocolate, stirring gently with a wooden spoon until smooth. Stir in vanilla and cinnamon; add brown rice cereal and mix gently. Pour mixture onto lined baking sheet and smooth out evenly into a rectangular shape (it doesn't have to be perfect).
• Sprinkle with chopped hazelnuts and set aside for 1 to 2 hours (or 30 to 45 minutes in the fridge) until chocolate hardens. Break into pieces and serve.



Mary Spiegelberg currently is pursuing a degree in Dietetics and Food Administration with a minor in Food Science at Cal State Long Beach. Her primary field of concentration is Sports Nutrition. She is a member of UCLA's Performance Nutrition Team, who work to fuel, sustain and improve performance of collegiate athletes. She is a Newport Beach native and proud owner of Hooked Boxing, LLC.