4-TIME WORLD MMA TRAINER OF THE YEAR, MIKE DOLCE, STARS IN NEW DOCUMENTARY – BAD CUT – EXPLORING THE DANGERS OF EXTREME WEIGHT CUTTING AMONG COMBAT SPORTS ATHLETES
ON APRIL 24
Athletes, Medical Experts & Industry Regulators Share Their Experience With The Dangerous Practice
That Is Upending The Business Of Combat Sports And Putting Lives On The Line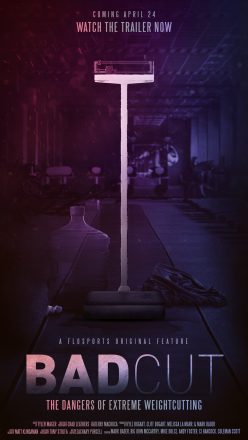 AUSTIN, Texas (April 7, 2020) – In the summer of 2017 in Houston, Texas, mixed martial arts athlete, CJ Hancock, collapsed in the cage a few minutes into the second round of a fight. He was dead but medical staff successfully revived him. Why would an MMA fighter in the prime of his life lay lifeless on the mat for 5 minutes? The answer may shock you. Not bruising body blows or punishing kicks to the head, but weight-cutting… extreme weight-cutting. FloSports, the innovator in live sports streaming and original content, will premiere an all-new original documentary, BAD CUT, that explores the dangers of weight cutting among MMA fighters and wrestlers and the adverse impact the practice is having on the business of combat sports. The film will exclusively stream on FloSports beginning April 24.
Fighters routinely put themselves at serious medical risk in order to make a competitive weight class by severely dehydrating themselves prior to competition. This practice is a major issue within all of combat sports, but especially MMA, where the risks of taking blows to the head in a depleted state can be fatal. Extreme weight-cutting has led to serious injury and even death and risks upending the combat sports industry. How does this practice affect the health of athletes? Will the industry make any changes? How are regulators tackling this issue? And what will the impact be on the business of combat sports? BAD CUT explores all these questions and more, as FloSports correspondent Mark Bader travels around the country to talk with medical experts, regulators, and athletes in an attempt to drill down to the bottom of this highly contentious issue and search for a solution before it's too late. Watch the BAD CUT trailer here.
BAD CUT features interviews and insights from leading authorities in combat sports including 4-Time World MMA Trainer Of The Year, Mike Dolce, former UFC referee, "Big" John McCarthy, MMA athlete, CJ Hancock, California State Athletic Commission Executive Officer, Andy Foster and 2012 Olympic Bronze Medalist, Coleman Scott.
BAD CUT is a FloSports Original Feature and will be the first in a series of new films set for release in the coming months including a documentary detailing a Cuban wrestler's journey across Central America to defect to the United States, a new cheerleading docu-series and more. BAD CUT was executive produced by Ray Machuca, produced by Kyle Bogart, Cliff Bogart, Melissa La Marr and Mark Bader, shot by Chad Leathers and Tony Stofla and edited by Tyler Mager.
About FloSports
Founded in 2006, FloSports is a venture-backed subscription video streaming service dedicated to sports, offering live and on-demand access to hundreds of thousands of competition events across 25+ vertical sport categories in the US and abroad. FloSports' mission is to give underserved sports the attention they deserve. With a growing library of more than 300,000 hours of premium content including news, expert commentary, films, documentaries and more, FloSports has established itself as an innovator and leader in sports streaming. Finally, your sport has a home. For more information, please visit: flosports.tv.
About Mike Dolce
Mike Dolce is the 4-Time World MMA Trainer Of The Year, Author of multiple #1 Bestselling Books including 3 Weeks To Shredded, Living Lean, and the Living Lean Cookbook. Dolce has been prominently featured by ESPN, Sports Illustrated,  as well as numerous other print and digital media outlets for his work assisting world class athletes compete and perform at the top of their game. Seeing a growing need in the market, Dolce created the #1 online  (healthy) weight loss program for athletes and laypeople alike at TheDolceDiet.com