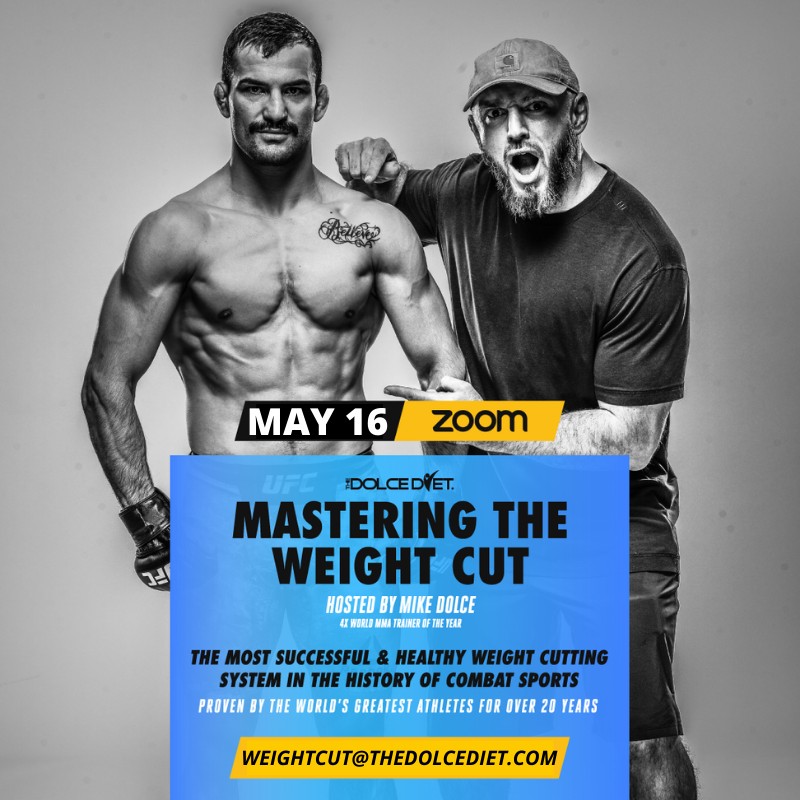 4-Time World MMA Trainer Of The Year, Mike Dolce, is proud to announce his upcoming "MASTERING THE WEIGHT CUT" seminar to be broadcast live and remote around the world via Zoom.
Noting the extreme risks athletes faced while competing in weight-class oriented sports, Mike Dolce is credited with developing the most successful weight cutting system in the history of MMA.
Growing up as an amateur wrestler before transitioning into a competitive powerlifting career, and finally as a professional Mixed Martial Artist, Dolce had personally cut weight hundreds of times over two decades.
During this time, his advanced education and practical experience of coaching elite athletes had led him to become, "One of the most sought-after coaches in professional sports." -Sports Illustrated.
ESPN has famously called Dolce, "A lifestyle changer" for his work in transforming the careers of his world-class athletes through intelligent nutrition programming and advanced strength training approaches.
To this day, no athlete has EVER missed weight or underperformed as a result of poor nutrition while adopting Dolce's groundbreaking system.
Never before has Mike Dolce fully disclosed his entire process of MASTERING THE WEIGHT CUT to anyone other than his private clients, until now!
On Saturday, May 16th, 2020, Dolce will host a live, 3-hour seminar, detailing the exact nutrition program, periodized exercise system, and meticulous water shedding techniques he has successfully used with the world's greatest athletes for over 20 years.
Dolce will also cover sports supplements, training gear, rehydration protocols, and competition day fueling.
BONUS! Members who PRE-REGISTER prior to May 1st will also be invited to Mike's LIVE 1-HOUR Question & Answer Session, in which he invites all questions and discussions on how to directly apply these world-class techniques for yourself or your team.
To ensure a highly engaged atmosphere, this will be a LIMITED attendance event, and will Sell Out.
Registration will officially open on May 1st, 2020, and spots will be filled on a first-come, first-served basis.
DO NOT MISS THIS EVENT!
RESERVE YOUR SPOT AT DOLCEDIETSHOP.COM or by clicking this LINK.
If you have any questions, feel free to contact us directly at WEIGHTCUT@THEDOLCEDIET.COM