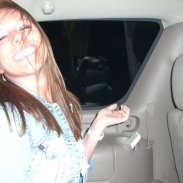 A BLOG POST by Lyndsey Foreman
Just want to give a big thanks to Mike and Brandy Dolce for their tremendous support!!
I've been a size 10 since I can remember, like high school days…
This week, I fit into a size 6, and literally cried. It was a huge moment in my life. For the past 6 years it's been a hassle getting ready in the mornings and having nothing fit and everything TOO tight. Barely squeezing into jeans made for one HORRIBLE day and frame of mind. But Monday morning when I fit into a pair of jeans I had from long ago, with nothing hanging over the sides, no jumping up and down to pull them up, just slipping into these cute pair of jeans that I've kept in the closet for motivation, was a damn good feeling.
For 2 months now, my boyfriend and I have been wearing clothes that have literally been falling off of us, and we finally got a chance to order some new jeans and shorts. We both ordered one size lower than what we had been wearing, and guess what? Their Loose!!
Anyone who hasn't tried this lifestyle out but is interested in getting healthy, and loosing weight in the process–this is the real deal. Its simple common sense that WORKS!! It changes your body into a healthy being, while giving you a whole new perspective on life. I'll be 26 this year, and in the past 4 months I've learned more about myself than the past 26 years. I look at my life totally different. I am more conscious of every thing I take in and am happy about the new me. For the first time I can look in the mirror and actually LOOK at myself and LIKE what I see. Not only is the physical aspects wonderful, but the frame of mind I am in now is going to add years to my life. We don't even count the weeks anymore, it's just healthy eating and striving to make our bodies in the best physical shape possible.
All the while, anything that we have posted on twitter about our progress, gets a positive response from Mike or Brandy, and that is a HUGE deal to me. Getting support from the source of our change is the best inspiration. Their dedication to their "product" says a lot about the type of people they are, and shows that they really care. So thanks ya'll, I appreciate all that you do!
---