"Chris Leben Calls on Old Teammate, Mike Dolce, To Guide His Weight Cut for UFC 132" by Damon Martin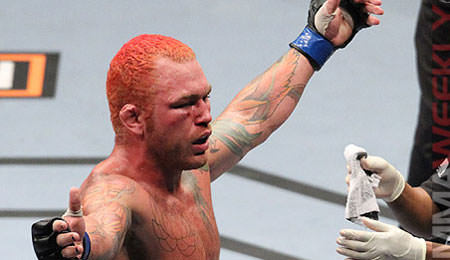 Chris Leben learned a few valuable lessons from his last fight against Brian Stann.
Leben openly admitted that he went into the fight with the wrong mindset, feeling a bit over confident when facing Stann, and his weight-cut and post-fight eating habits backfired on him.
Leben put the onus back on himself for making the mistakes he made, especially when it came to his diet for the Stann fight.
"That's my fault," Leben said about his health for the fight. "I cut a bunch of weight and then I went out and ate a bunch of candy after I made weight. Probably not the best idea."
To remedy the situation for his upcoming fight at UFC 132 against Wanderlei Silva, Leben called on an old friend from his days training at Team Quest in Oregon to insure he would not fall into the same traps as last time.
"Chris and I, we've been friends since the Team Quest days back in '05, we've been friends, we've been teammates, all that good stuff. I helped him out back then when we were at Team Quest together for a few fights and whatnot," Mike Dolce told MMAWeekly.com after getting the call to help Leben for his weight cut.
"He reached out to through Twitter and email a few months ago and it was kind of hard to communicate because I was with Thiago (Alves) and things like that, and then Greg Thompson, his head coach, he reached out to me last week and we started talking, and talking about his weight cut the last time and it just kind of came together that way."
While Dolce wasn't with Leben for his entire training camp like he works with so many athletes, one of the sport's top nutritionists and trainers came in for the last week to help his old friend make sure he not only made weight, but felt better than ever after it was over.
Thompson was also a teammate with Dolce at Team Quest, and when the band got back together they were able to dissect exactly what went wrong the last time and how they had to change things to make sure it didn't happen again.
"His weight's pretty good, but he had a lot of trouble with that last fight. Greg and Chris wanted to make sure they didn't have any of those issues this time. He's just in the best shape of his life. They pulled me in to set up his food, his meal planning, the structure that stays into the weight cut, which we're starting to do that now, and the post-fight rehydration, which is really the most important time," Dolce explained.
"We discussed what happened, what went wrong last time, and that's when I described what it has to be for a world-class performance to be unveiled, which Chris is about to do. That is the crucial time, the rehydration. Most guys lose the fight on the scale, not because the weight cut is so hard, but because they don't know how to refuel the body afterwards, and get all the systems back up and running for the fight time."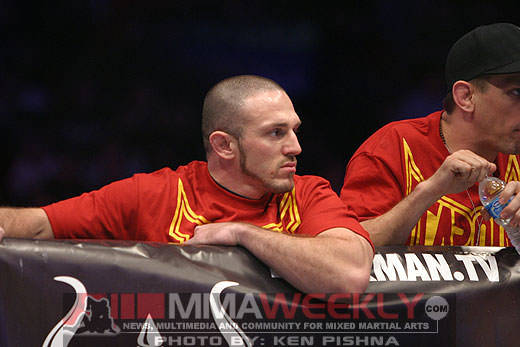 Dolce's work has been on display several times, dealing with fighters like Thiago Alves, Michael Bisping, and Mike Pyle.
Working with Chris Leben over the last several days, Dolce says he has the former "Ultimate Fighter" eating up to six meals a day, but he's watching the pounds fall off each morning and is currently weighing in the mid-190s, and could easily make weight today if the fight was happening tomorrow.
It's a proven formula that works and Dolce is confident his plan will pay off for Leben on Friday at the weigh-ins and then again on Saturday during the fight.
"I don't do anything special other than allow the fighter to compete at their best possible ability. That's all within the heart, the mind, and the skill set of Chris Leben," Dolce said.
"I'm very confident he will be in the absolute best shape, best condition of his career, when he steps into that cage. He'll be firing on all cylinders."
Dolce will be with Leben for the rest of the week as he makes his cut down to 185 pounds and he'll see it through Saturday night when he steps in to face Wanderlei Silva in the co-main event for UFC 132.
(Originally written for www.MMAweekly.com)
---