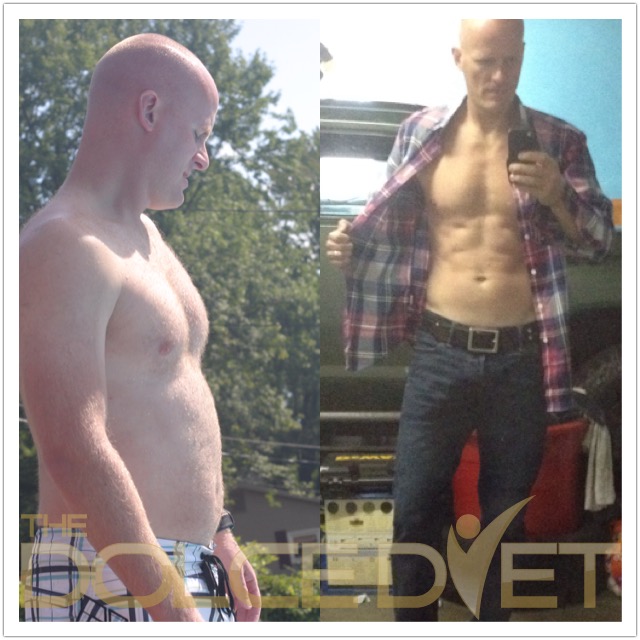 by Todd H.
As of March 2013 it has been 2 solid years since I changed my lifestyle and started living lean.
I started at (conservatively) 215 lbs. After my first round of Three Weeks to Shredded, commonly known in social media as (3W2S), I dropped 28 lbs and have not looked back. I am at, and have constantly remained at 187 lbs. +/- a few lbs.
No, it has not been easy; we all have our peaks and valleys. I never expected it to be easy, after all, real life is not like some commercial where you sprinkle some powder on your chili dog and everything turns out all right. Nothing valuable comes easy. This lifestyle requires a lot from the individual.
This lifestyle requires you to be accountable to yourself, become reliant upon yourself, make choices and live with the consequences of those choices, the good ones and the bad. It requires that you self govern and motivate yourself. See a theme here? This is about you and what you do; it has no chance of getting done otherwise.
Self-motivation is a huge aspect of this lifestyle but we all get down on ourselves at times and need help. This is where the masterful Mike Dolce steps in. Listen and re-listen to his podcasts. It is like having him over your shoulder coaching you anytime, anywhere through your ear buds. He is talking about a subject you don't really care about? Use that time to think of what great and healthy meal you are going to make for dinner, then go back to listening.
Use MyDolceDiet.com and The Dolce Diet Facebook, ask questions, start discussions; you get no answer right away? Hit Twitter, if Mike doesn't answer himself (which is crazy, I think he has clones of himself) then #hashtag that ****ing tweet! Get with it! #3W2S #LivingLean #TheDolceDiet #LivingLeanCookBook #EarthGrownNutrients #HelpMeDolce (LOL) Somebody in this Living Lean Community will see it and get back to you. Use this team as a motivational tool.
Mike Dolce and Brandy Dolce are like your Training Camp coaches, except this isn't a 6-week or 12-week camp, this is for life! Don't give up – don't give in.  Use the resources available to your advantage. Make friends, follow, check @TheDolceDiet's favorites, fill up your favorites with other people's inspiring tweets, their success stories and go back and use those to motivate you. It works! I do it.
I have a vacation to Hawaii coming up I leave April 23 to paradise and I plan on being half naked about 98.9% of the time I am there. I am going to be surfing, swimming, paddle boarding, hiking, kayaking, I am going to squeeze every ounce of health and vitality that I have been blessed with, count on it. Like I said I am also going to be half naked, constantly so, I start another round of 3W2S on April 1st. I have already marked my calendar with my GOAL that by the weekend of April 20th I will be a lean mean, washboard abs machine!
Mike doesn't type and talk until he is blue in the face for us to not take heed. He does it so we will set goals and do our very best to reach those goals. I consider Mike and his team to be my coaches, and coaches with this high level of passion and this much availability come around maybe once in a lifetime. I plan on taking heed and reaping the blessings that come with their dedication and their want for me to succeed. I will not squander this opportunity.
As always I really appreciate you taking the time to read my rants and I hope it encourages you to set your own personal goals and reach the high level of health and vitality that we are all capable of.
*Individual results may vary