DOLCE DIET LIFESTYLE:
Healthy, Crockpot Recipes
by Samantha Coogan, MS, RDN, LD
Cozy up with some hearty, cold-weather crockpot recipes, sure to satisfy the family!


Chicken, Potatoes & Green Beans
Serves 4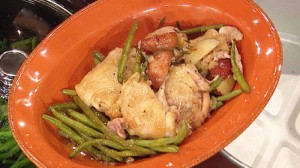 Ingredients
• 1 ½ – 2 lbs. chicken breasts
• ½ lb. fresh green beans, trimmed
• 1 ¼ lb. diced red potatoes
• ⅓ cup FRESH lemon juice
• ¼ cup olive oil
• 1 tsp. dried oregano
• 1 tsp. salt
• ¼ tsp. pepper
• ¼ tsp. onion powder
• 2 garlic cloves, minced
Instructions
1. Start by placing the chicken in a 6-quart slow cooker, in the center. Then add the green beans on one side. For potatoes, you will need to place them off to the other side.
2. In a medium sized bowl, whisk together the lemon juice, olive oil, oregano, salt, pepper, onion powder and garlic cloves.
3. Pour this mixture evenly over the chicken, green beans and potatoes.
4. Cover and cook on high for 4 hours, without opening the lid during the cooking time.


Honey Beef & Apples
Serves 6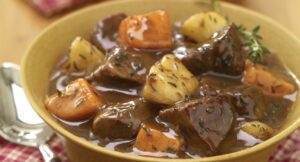 Ingredients
• 1 (3-4 lb) grass-fed beef tenderloin
• 2 large granny smith apples. sliced
• ½ cup honey
• 2 tbsp. cinnamon
Instructions
1. Slice slits in beef tenderloin and place 1-2 apple slices per slit.
2. Place ¾ of remaining apple slices in bottom of crockpot and drizzle ½ of the honey over apple slices.
3. Place beef on top of apple slices and sprinkle cinnamon over everything.
4. Place remaining apple slices on top and drizzle the remaining honey over everything.
5. Place lid on and cook on low for 8 hours.


White Bean Chicken Chili
Serves 6-8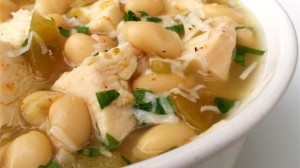 Ingredients
• 3-4 boneless skinless chicken breasts
• 1 ½ tsp. chili powder
• 1 tsp. cumin
• ½ tsp. onion powder
• ½ tsp. garlic powder
• dash of cayenne pepper
• 14.5 oz. can chicken broth
• 4.5 oz. can chopped green chiles
• 15 oz. can white corn, drained
• 2 – 15.5 oz. cans Cannellini beans, drained
• 3 tbsp. grass-fed butter
• 3 tbsp. whole wheat flour
• 1 c. unsweetened almond milk
• 1 teaspoon Better Than Bouillon no chicken base
• ¼ tsp. white pepper
• ½ tsp. seasoned salt
• ½ c. nonfat, plain Greek yogurt
Instructions
1. Place chicken breasts on the bottom of a crockpot, and add chili powder, cumin, onion powder, garlic powder, cayenne pepper, chicken broth, green chiles, corn and beans. Cook on low for 6-8 hours.
2. About an hour before serving: In a small saucepan, melt butter over medium high heat and whisk in flour. After a few minutes, gradually whisk in the almond milk and no chicken base.
3. Allow the sauce to simmer for 4-5 minutes, whisking frequently until it is slightly thickened. Add salt and pepper. Pour sauce into crockpot and mix to combine.
4. Add Greek yogurt and mix.
5. Shred chicken with two forks, and return to the crockpot.
6. Let the chicken chili cook on low 1 more hour if you can.


What did you think about this article?

Leave your comment below!