Dolce Diet Memorial Day Celebration Menu
Memorial Day is a time of remembrance for those who have died in service of the United States of America. To all the men and women who've served or continue to serve in our armed forces, we thank you.
---
APPETIZER
Patriotic Berry Salsa
• 1 c. fresh blueberries
• 1 c. diced strawberries
• 1 c. diced jicama
• 1/3 c. chopped cilantro
• ¼ c. finely chopped red onion
• 2 tbsp. finely chopped jalapeno, stemmed and seeded
• Juice of 1 large lime
• Salt, to taste
• Home-baked Tortilla Chips from The Dolce Diet Living Lean Cookbook, for serving
o Gluten-free tortillas cut into triangles
o 1 tbsp. grapeseed oil
o Dash of sea salt
Directions:
1. In a medium bowl, combine blueberries, strawberries, jicama, cilantro, red onion, jalapeno, and lime juice.
2. Season with salt, to taste.
3. Serve with tortilla chips at room temperature or chilled.
Tortilla Chips
1. Preheat oven to 350 degrees.
2. Place triangles on baking sheet and brush with grapeseed oil and sprinkle with salt.
3.Bake about 8 minutes.
---
ENTRÉE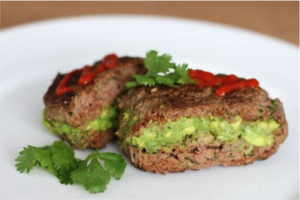 Guacamole Stuffed Burgers
Serves 6
Ingredients
• 2 avocados
• Juice from ½ a lime
• 1 shallot, finely chopped
• 2 lbs. grass-fed ground beef
• 2 garlic cloves, finely chopped
• ½ c. finely chopped cilantro
• 1 jalapeno pepper or small green bell pepper, seeded and finely chopped
• 3 tsp. chili powder
• 1 tsp. cumin
• 1 ¼ tsp. sea salt
• Whole grain or gluten-free buns
Directions
1. Heat the grill to medium-high.
2. In a small bowl, mash the avocados with the lime juice, shallot and a pinch of salt. Set aside.
3. In a large bowl, mix together the meat with the garlic, cilantro, jalapeno or bell pepper, chili powder, cumin and salt.
4. Divide the ground meat into 6 even mounds. Split each mound in two and form two thin burger patties, one patty slightly bigger than the other.
5. Dollop a spoonful of avocado in the middle of the smaller patty, spreading it out slightly but making sure to leave a little rim around the edge of the meat.
6. Set the larger patty on top and fold/pinch the edges together and shape the burger in your hands to form a tight seal around the guacamole.
7. Repeat with the remaining five burgers.
8. Grill the burgers 5 to 7 minutes a side or until cooked to your liking.
---
SIDE DISH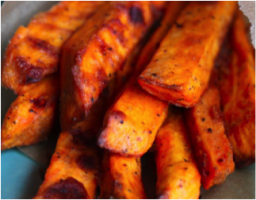 Serves 6
Ingredients
• 4 large sweet potatoes
• 6 tbsp. agave or honey
• Dash of sea salt
• 4 tbsp. grapeseed oil
Directions
1. Preheat oven to 375 degrees.
2. Wash and peel potatoes and cut into thin, French-fry-like strips.
3. In large bowl, combine 2 tbsp. grapeseed oil and salt.
4. Spread 2 tbsp. grapeseed oil over baking sheet and spread out potatoes in single layer.
5. Bake about 30 minutes or until tender on inside and crispy on outside.
6. Add honey to bowl for dipping.
---
DESSERT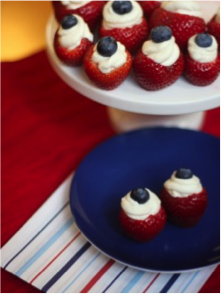 Stuffed Strawberries
Serves 8
• 1 lb. large strawberries
• Blueberries (to top each strawberry)
• 8 oz. vanilla Greek yogurt
Directions
1. Rinse strawberries and cut around the top of the strawberry.
2. Remove the top and clean out with a paring knife.
3. Prep all strawberries and set aside. Pat dry.
4. Cut off the bottom so that they will sit straight.
5. Add yogurt to an icing bag or Ziploc with the corner snipped off.
6. Fill strawberries with yogurt.
7. Top with 1 blueberry
8. If not serving immediately, refrigerate until serving.
---
DRINK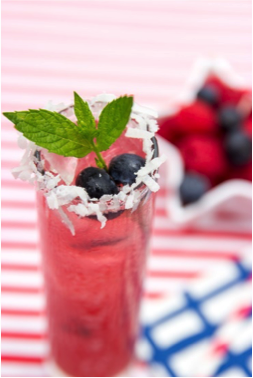 Blueberry Coconut Sparkler
Ingredients
• 3 c. fresh blueberries
• 3 tbsp. lemon juice
• ½ c. coconut water
• 2 ½ c. sparkling water
• Ice (Fruit Cubes below)
• Coconut flakes (for garnish)
Directions
1. Muddle blueberries in bottom of a bowl.
2. Add lemon juice and coconut water.
3. Stir until well combined, then strain mixture and discard blueberry skins.
3. Add sparkling water and gently stir until combined.
4. Garnish rims of glasses with coconut flakes.
---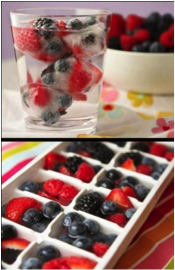 Serve with Fruit Cubes
Ingredients
• Handful of blackberries, rinsed
• Handful of blueberries, rinsed
• 4-5 large strawberries, hulled, sliced and rinsed
• Handful of raspberries, rinsed
Directions
Place the fruit into an empty ice cube tray. Pour water over the tops of the fruit and freeze for 1 hour.