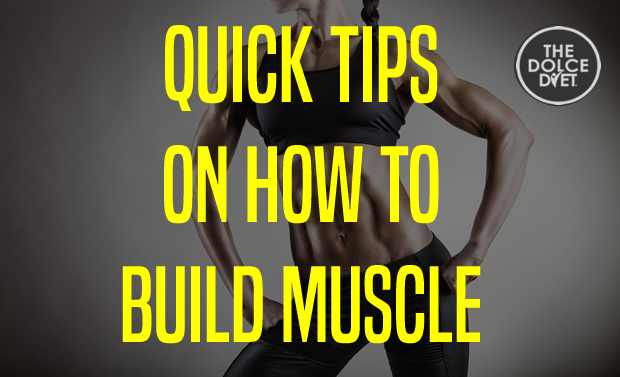 DOLCE LIFESTYLE:
Quick Tips on How to Build Muscle
by Samantha Coogan, MS, RDN, LD
Building muscle is no easy feat. There are many factors that play a role, including patience. It takes time to build lean, functional muscle. It could take up to a year to put on ten to twenty pounds of lean muscle. But if you're willing to commit to a proper, consistent training regimen, sleep schedule and diet, then you should get the results you've been looking for.
Training
• Train a minimum of 3 times per week
• Be sure to include deadlift, squats (front and back), bench press (dumbbell and barbell) and military press
• Always use proper form (drop the weight down once form deteriorates)
• Be sure to BREATHE on every rep
• Make sure to incorporate eccentric movements
• Change up your muscle groups daily
• Don't overdo the cardio. Some is necessary, but don't go catabolic, that's the exact opposite of what we want.
• Push yourself to the limit you know YOU can handle. It's YOU vs. YOU
Diet
• Eat more and eat often. No more of the traditional 3 meals per day. Strive for 4 to 6.
• Protein: 1.5 to 2 grams per pound of bodyweight per day
• Carbs: 3 grams per pound of bodyweight per day
• Best Foods: eggs, fish, chicken, turkey, nuts, cottage cheese, Greek yogurt
• You must meal prep. It's the best way to stay on track and you won't be tempted when you've already put in the work to prepare it all.
• Incorporate The Dolce Whey in order to meet your protein needs for the day (you can only eat so much chicken). 50 grams a day from whey protein is just fine.
Sleep
• You must strive for a minimum of 7 hours of uninterrupted sleep per day (8 or 9 hours would be even better.)
What did you think about this article? Leave your comment below!