WHY YOU SHOULD NOT AVOID ALL FATS & CARBOHYDRATES by Aaron Fried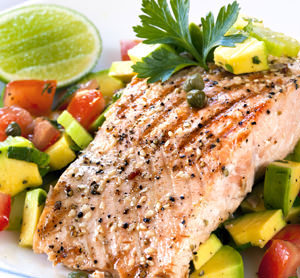 When people think about nutrition, their first thoughts are usually about calories. In today's world, common knowledge about a given food stops at the amount of calories in each serving. Since fad diets, pre-set meal plans in the mail, and miracle pills have become the norm of 'eating right' in our world, it is rare to see someone looking beyond the first line of the "Nutrition Facts" label on their food packages.
Occasionally, people will check to see if their food is made up mostly of carbohydrates, fats, or proteins. Many of them are often tricked into avoiding fats, because "fat makes you fat," or they steer clear from carbs for the same reason.
While it is definitely a good idea to avoid starchy, fatty foods like cookies and cake, both of which are high in fats and carbohydrates, that does not mean that fats and carbs are all bad. In fact, these are the main macronutrients which your body uses as building blocks or fuel.
It is always crucial to ask: What kind of carbs, fats, and proteins do we have in a given food? What else is in the food? Are there good fats and bad fats, for example? Of course, the curious and responsible eater looks for the answers to these questions, and eats accordingly.
Typically, protein is treated as always good, but the protein from a fast food cheeseburger or from genetically-modified soybeans is not as good for you as the protein in hemp seeds. Protein doesn't have to come from the traditional sources; it's in all sorts of foods. Kale, for example, has plenty of protein in its ridged green leaves. Some types of protein are better for your body than others, and – usually – a good rule of thumb is to stick to whatever is closest to nature.
Fat, too, doesn't always mean the grease that oozes out of an order of fries. Oil isn't always bad. Butter and lard, both fats that come from animals, tend to be bad for your body. Artificial substitutes for these, like margarine, often have trans-fats, which are even worse. Yet, your body's cells are held together by fat, and you need it to function properly. Always be on the lookout for good fats, like coconut oil, which has certain types of saturated fats that your body can use for energy. Chia seeds, flax seeds, and hemp seeds all have plenty of omega-3 and omega-6 fatty acids, which have been shown to improve health in a wide variety of ways.
Carbohydrates aren't limited to bread and pastries. Healthy foods like quinoa, brown rice, and sweet potatoes are full of carbs. Fruits and vegetables have lots of sugars, the most common form of carbs. Carbohydrates are your body's main source of energy, and they shouldn't be avoided, just eaten in moderation.
It is important to remember that when you eat a food, you make sure that its macronutrients come with a full complement of micronutrients, which are things like vitamins, minerals, antioxidants, and phytonutrients. Fats, proteins, and carbohydrates are like your engine's fuel, but it cannot run on that alone. Like a car without motor oil and antifreeze, your body will break down without vitamins and minerals. The best place to find these are in natural foods fresh from the earth.
---